Gravesend Pocahontas Statue Re-Listed
16 March 2017, 06:41 | Updated: 16 March 2017, 06:45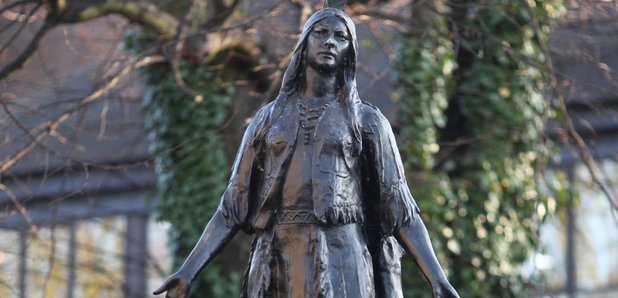 A statue of Pocahontas in Kent has had its listed status updated to commemorate 400 years since the Native American's death.
The Grade II life-size bronze of Pocahontas at the Church of St George in Gravesend, Kent, has been "re-listed'', with its entry on the heritage list updated to include a full description of her life and role in English and American history.
New Grade II listed status has also been given to the Virginia Quay Settlers Monument in Blackwall, which remembers the men, women and children who left the quayside for North America in 1606.
The adventurers, who went on to found Jamestown, the first Virginia English colony, in April 1607, included Captain John Smith, through whom Pocahontas, daughter of Chief Powhatan, became linked to the colonists.
Legend has it that Captain Smith was captured by Native Americans and his life was saved by Pocahontas.
She gained a reputation as a peacemaker between the two populations, befriending the colonists and accompanying gifts from her father to the struggling colony, which had dwindled due to disease, famine and conflicts with Native Americans.
After Smith returned to England, Pocahontas was captured and spent a year in the English encampment, during which time she converted to Christianity and later married the colonist John Rolfe, becoming known as Rebecca Rolfe.
With him, she travelled more than 3,000 miles to England in 1616. In March 1617, she died in Gravesend, Kent, at the beginning of the return leg to Virginia.
The updated and new listings have been made by the Department for Culture, Media and Sport, on the advice of government heritage body Historic England.
Debbie Mays, head of listing at Historic England, said: ``Pocahontas is remembered for her forging of ties between two very different cultures.
"These monuments are physical reminders of her story, those of the English setting sail to the New World, and our shared colonial past and we are pleased to mark their importance on the National Heritage List for England.''
The statue in Gravesend is a copy of a sculpture in Jamestown. It was given by the governor of Virginia to the British people 50 years ago on the 350th anniversary of her death. It was first listed in 1975.
The exact location of Pocahontas' burial is unknown as the medieval Church of St George burned down in 1727.
It is thought she lies beneath the rebuilt Georgian church, which is Grade II* listed.
The memorial to the early colonists at Blackwall, across the Thames from the O2 arena, has a rough-hewn rock base and astrolabe navigation instrument on top combine to convey the adventure and risks of setting off for the New World.