Group Found guilty Of Trying To Smuggle Albanian migrants into UK
7 August 2018, 12:54 | Updated: 7 August 2018, 13:04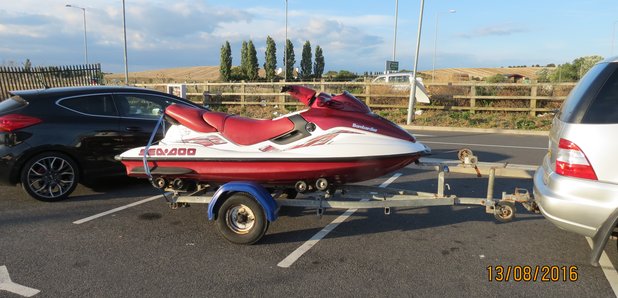 Six men who were part of a crime group attempting to use small boats and a jet ski to smuggle migrants across the Channel into the UK have been found guilty, following a nine week trial at the Old Bailey.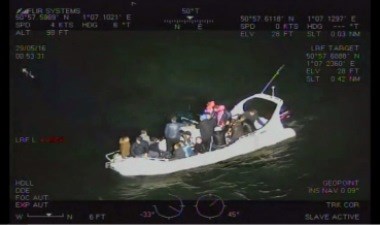 The lengthy investigation, led by the National Crime Agency, focused on two separate criminal networks working together, one Albanian and one from Kent and was carried out with the support of the French National Police, Immigration Enforcement, Kent Police and Border Force.
The plot involved Albanian organisers Artur Nutaj and Sabah Dulaj who attempted to illegally facilitate Albanian migrants into the UK from the north coast of France, working with a Kent-based group, led by the Powell family – father Leonard and sons George and Alfie - to provide the transport facilities.
The Kent group had access to a number of fast Rigid Hull Inflatable Boats (RHIB) and other general maritime vessels, which were used in their attempts to transport the migrants.
National Crime Agency investigators were initially called in after a RHIB called the 'Rebel' was found by Border Force abandoned at Dymchurch beach, Kent in May 2016. The boat contained life jackets and a check of the vessel's navigation system showed it had travelled across the Channel.
The boat had been bought by Wayne Bath, Leonard Powell and one of his sons in Norfolk for £12,500 cash on 5 May.
Five days later the Rebel was used by Bath to travel over to France and collect an unknown number of migrants. French National Police observed people being collected from hotels in Calais and being taken by taxi to a beach at Escalles, a short distance away.
The Rebel returned to Dymchurch in the early hours of 11 May, and CCTV captured three vehicles, two of which were being driven by Nutaj and Dulaj, arriving at the slipway and then leaving shortly after.
Later that month, on the evening of 26 May, the French National Police were again carrying out surveillance at Escalles beach when they witnessed a group of 17 people wading out into the water. At the same time, light signals were seen from a car park above the beach, causing a boat to leave the area.
NCA investigations identified that boat to be the RHIB 'Antares', which had been towed to and from Dymchurch beach that day. The Antares was bought for £3,775 by Albert Letchford in Hampshire just days before and Leonard Powell had also been present.
On the 28 May the RHIB 'White Scanner', which had been acquired by George Powell for £12,500 cash, was seen being put into the water at Dymchurch and later that day, travelled to France and collected a group of 18 migrants.
NCA officers now had the Kent group under surveillance and saw a white minibus parked near the shoreline in Dymchurch seemingly ready to collect those on board.
But on its return journey, the White Scanner got into difficulties in poor weather and was rescued by a HM Coastguard helicopter, a Border Force cutter and the RNLI approximately five miles of the coast.
Border Force officer Gareth Leadbetter was later awarded a Queen's Commendation for Bravery for his role in the rescue.
The gang appear to have attempted their own rescue attempt with the Antares, but upon seeing the law enforcement activity abandoned the boat.
The two man crew of the White Scanner, Mark Stribling and Robert Stilwell were investigated by Immigration Enforcement and later convicted and jailed.
In July the group obtained another larger boat, known as the 'Boat With No Name' for £3,000. NCA officers were able to plant a listening device on the vessel and heard evidence of the preparation for another attempted migrant run.
On 25 July the boat left Ramsgate but after hitting rough seas decided to turn back. The following night it set off again, narrowly avoiding a fishing vessel, coming within 100m of a large cargo vessel and travelled against the flow of traffic in the busy shipping lane. After running out of fuel the vessel made a 'mayday' call and was found by a Border Force Cutter adrift, before being towed back to shore by the RNLI.
On 13 August 2016, NCA officers observed Leonard and George Powell meet Sabah Dulaj in a pub car park and then travel together to Sheerness where they bought a jet ski, believed to be for the purpose of transporting migrants from France to the UK. All three were arrested. The same day Kent Police raided the Powell's farm in Farningham, seizing drugs, cutting agents and stolen vehicles.
The other gang members were arrested over the coming weeks and charged with conspiring to facilitate a breach of immigration law.
On the 15 May 2018, at the Central Criminal Court, George Powell entered a guilty plea for his part in the conspiracy, but the remaining members of the group - Wayne Bath, Sabah Dulaj, Artur Nutaj, Albert Letchford, Leonard Powell, Alfie Powell, Alan Viles and Francis Wade - pleaded not guilty and stood trial at the Old Bailey.
On Tuesday 7 August Bath, Dulaj, Nutaj, Letchford, Leonard and Alfie Powell were all found guilty. They will be sentenced, alongside George Powell, on 21 September.
Alan Viles and Francis Wade were found not guilty.
National Crime Agency regional head of investigations Brendan Foreman said:
"These men were involved in a staggeringly reckless plot to bring migrants to the UK illegally and in a highly dangerous manner.
"They were prepared to risk lives for the sake of profit, treating people as a commodity to ship across the world's busiest shipping lane using small boats and even a jet ski.
"Were it not for the intervention of the NCA, Border Force and other agencies involved in this operation, including the Coastguard and RNLI, I am certain there would have been tragic consequences.
"In disrupting and dismantling this people smuggling network we have not only protected the security and the integrity of the UK border, but also saved lives."
Mike Stepney, Border Force Deputy Chief Operating Officer, said:
"These convictions are another example of the effectiveness of our multi-agency approach to securing the UK's border and territorial waters.
"By collaborating with the NCA, our Home Office colleagues in Immigration Enforcement, and other partners we have brought a significant organised people smuggling gang to justice – and saved lives in the process.
"Working together, we will continue to do all we can to put those involved in people smuggling behind bars."
As a result of this NCA investigation, codenamed Operation Sugate, a range of other offending including drug and vehicle crime was also identified involving associates of the group and other family members. Working with Kent Police the NCA were able to significantly disrupt this, and a number of people were arrested and later convicted.
The NCA's Brendan Foreman added:
"The public can be assured that in dismantling this criminal organisation we haven't just stopped a gang of people smugglers.
"With the help of Kent Police and other partners, I believe we have also protected the people of Kent from a range of other offending associated with them including drug dealing and vehicle crime.
"This demonstrates that by targeting these crime groups the NCA can have an impact at a community level, as well as at a national and international one."