Heatave Advice In Kent
25 July 2018, 09:14 | Updated: 25 July 2018, 11:14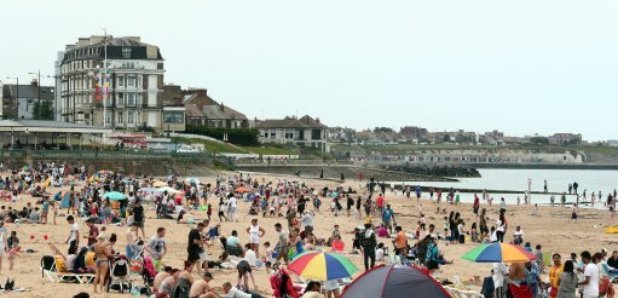 Kent County Council warning the heatwave alert for Kent Level Three means the old, the very young, and people with chronic or severe illness who could be at extra risk.
The level three warning means high temperatures have been reached and the sustained hot weather could lead to an increase in health problems so swift action is required immediately to protect people from the harmful effects. The Met Office has forecast a prolonged period of hot weather for this week.

Health and social care workers are regularly checking the people they care for who are most at risk. Kent's health experts are also appealing to people to check on friends, relatives and neighbours who may be less able to look after themselves. Key 'Beat the Heat' advice includes staying out of the sun during the hottest part of the day, drink cold drinks regularly, such as water and avoid tea, coffee and alcohol.
KCC also supports the NHS campaign "Cover Up, Mate" which aims to encourage men who work outdoors, such as farmers, builders, gardeners and sportsmen, to take a safer approach to the sun in summer to help reduce the incidence of skin cancer; the incidence of skin cancer in men is increasing at a faster rate than it is for women.

KCC Director for Public Health, Andrew Scott-Clark, said:
"When it is hot outside, it is really important that families and communities look out for the people around them, especially those who may not be able to look after themselves. The heat can affect your health more than you might think – prolonged exposure to hot temperatures can lead to worsening of heart problems, respiratory difficulties and serious health problems, and can cause heatstroke, which is potentially fatal. There are also long term issues of skin cancer from sunburn but some simple common sense precautions mean we can all enjoy the weather without a trip to A&E."

Key advice in hot weather includes:
Drink plenty of water as sugary, alcoholic and caffeinated drinks can make you more dehydrated.
Never leave anyone in a closed, parked vehicle, especially infants, young children or animals.
Try to keep out of the sun between 11am to 3pm. If you have to go out in the heat, walk in the shade, apply sunscreen and wear a hat. Avoid physical exertion in the hottest parts of the day.
Wear light, loose fitting cotton clothes.

Close curtains on rooms that face the sun to keep indoor spaces cooler and remember it may be cooler outdoors than indoors.
If you are travelling, make sure you take water with you and check traffic reports and weather forecasts. Plan ahead to make sure you have enough supplies, such as water, food and any medications you need
Take care and follow local safety advice if you are going into the water to cool down
Angela Baker, Public Health England's Deputy Director of Health and Wellbeing for the South East, said: "Spells of hot weather like this are enjoyed by many of us, but they can make a very real impact on some people's health. That's why it's so important we all keep an eye on those likely to be most at risk, people with underlying heart and lung conditions, older people and those with younger children. Some people in these groups may not be able to take steps to keep themselves cooler – so if you're able, ask your friends, family and neighbours if they need any support."

People are urged not to go to A&E or call 999 unless it's an emergency. If you are in any doubt, NHS111 can help you get the right treatment or go to www.nhs.uk/Livewell/Summerhealth/Pages/Heatwave.aspx