Hextable: Teenager Jailed For Attacking Pensioners
15 May 2014, 11:38
A teenager who robbed and viciously assaulted pensioners in their own homes in Hextable has been jailed for 10 and a half years.
Aaron Davis, 18, beat one of his victims so hard that her false teeth came out and her glasses were broken. Davis, formerly of College Road, Hextable was sentenced at Maidstone Crown Court after previously pleading guilty to a number of offences which took place last year.

At 9am on 15 October 2013 police were called to an address in a street named Panter's where Davis had entered a house and beaten an elderly couple. He had been carrying a black holdall when he knocked at the door and asked for the time, which the woman – aged 89 - gave him. Around 15 minutes later the woman went to the bathroom and noticed the black holdall on the floor of the property but then recalled nothing other than waking up in an ambulance.

Her 84 year-old husband explained how Davis came at them with a crowbar and attacked them in their own home. His wife was left with a fractured nose and eye socket, a fracture to the base of her spine and other injuries consistent with being kicked repeatedly. She was beaten so hard that her false teeth came out and her glasses were broken.

Detectives investigating the case linked it to a previous offence that had occurred in Panter's the previous month. On 10 September an 81 year-old lady awoke from being unconscious and called her friend stating that she had fallen over and hurt herself. Ten days later in hospital the victim recalled that Davis had entered her home and assaulted her. Police also linked a theft from this victim's shed, after golf clubs were stolen and the shed set on fire.

Davis was identified as the suspect after he matched the description given by the victim and his DNA was found on the bag he had left at the crime scene. He was sentenced at Maidstone Crown Court on 6 May. Davis had pleaded guilty at a previous court hearing to three counts of grievous bodily harm with intent, two counts of robbery, the burglary of the first victim's shed and another burglary at the football pavilion in Hextable Park.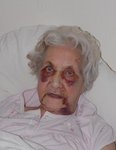 One of his victims, Jean McDougall, 89, requested that images of her injuries be shown to show the full severity of the attack.

Kent Police Detective Constable Shelley Rainer, who led the investigation, said: 'This case involved an extremely violent assault on three innocent pensioners, for very little financial gain. It is a case that has caused immeasurable damage to the victims, their families and the community they live in. The victims' courage in supporting the police has led to the successful conviction and prevented other offences in the future. Despite the age of the defendant the judge has imposed a significant sentence that I think reflects the serious nature of the offences and also the threat that he poses to society.'