Kent Family Warn Others About Smoke Alarms
3 August 2018, 05:36 | Updated: 3 August 2018, 10:22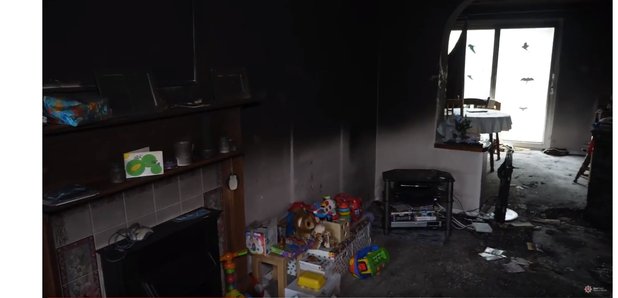 A family from Borough Green have spoken of their relief at surviving a serious fire in their house, thanks to working smoke alarms fitted by Kent Fire and Rescue Service (KFRS). Campaign to encourage more families with young children to sign up for free safe and well visit.
Homeowners Stephen and Sarah Cole describe their ordeal which happened just six weeks ago, in a new film for Kent Fire and Rescue Service, which shows the extent of the damage to their home, as part of a campaign to encourage more families with young children to sign up for free safe and well visit.
Smoke alarms, which had been fitted for free at their home in Borough Green, as part of a safe and well visit by firefighters a few years ago, woke them in the early hours and the couple quickly grabbed their son, James, from his cot and left the house as the fire took hold.
Sevenoaks watch manager Danny Barrett, who attended the incident in June on Father's day, said: "The fierce heat and thick toxic smoke created by the fire caused severe damage to the property. Without working smoke alarms the family would most likely have remained asleep until the fire had spread to the stairwell of their home, blocking their only means of escape, and it could have been a very different outcome for them."
Sarah said: "We didn't realise the extent of the smoke damage until we returned to our home a few days later and it really hit home how close we had been to losing our lives. Although all our property has been destroyed, we are thankful to have got out safely and were very grateful to see in our son's second birthday just days later."
Stephen added: "I would really recommend that people have a free safe and well visit from KFRS, to have the advice as to where to position the smoke alarms and the advice as to what to do if there is a fire. It was something that we took up and it is something that saved our lives."
KFRS offers families with have children aged five or under, and residents who are pre or post-natal, free safe and well visits.
Home safety officers or firefighters will visit your home at a time convenient for you, and together with you, will tailor the visit to suit your needs and the type of property you live in. A typical free visit takes around 45 minutes and includes the fitting of free smoke alarms where necessary, as well as vital advice to help you stay safe and well.
To request your free safe and well visit today by calling our home safety team on 0800 923 7000 during normal office hours