Kent Firefighters Go Viral
16 October 2017, 12:12 | Updated: 16 October 2017, 12:29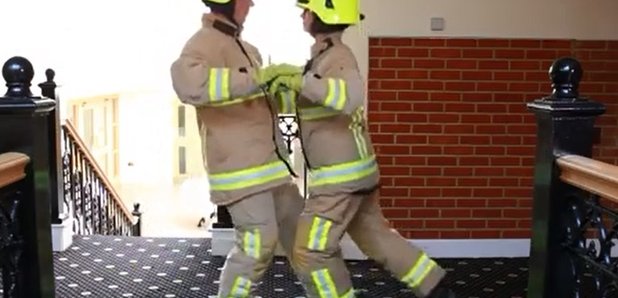 Kent Fire and Rescue Service (KFRS) has released a new safety video featuring firefighters dancing to the Dirty Dancing soundtrack.
The video, which has a serious message about checking your smoke alarm, was made to coincide with the 30th anniversary of the classic 1987 movie.
Still considered to be one of the greatest romantic films ever made, but the KFRS Dirty Dancing parody sees the late Patrick Swayze and Jennifer Grey replaced by watch manager Joanne Gilham and firefighter Nathan Pavey.
The pair are seen strutting their stuff to "(I've Had) The Time of My Life", with their performance ending with the famous lift and Jo reaching up to test a smoke alarm.
The video then reminds the audience: "Keep having the time of your life - test your smoke alarm weekly."
Ian Thomson, Head of Community Safety at KFRS said: "This parody is a great deal of fun, but delivers a simple yet serious message about carrying out a quick check every week. This check can make such a difference to the lives of the people we care about and love the most.
"We're not expecting people to do 'The lift' scene from 'Dirty Dancing' to test their smoke alarms, however we really want people to make it part of their weekly activity. If you have difficulty reaching for the smoke alarm then you could use a broom handle or ask a relative or neighbour to help. These life-saving devices are vital in every home."
The video has been retweeted more than 600 times on twitter and has received 1,500 shares on Facebook.