Kent PCC Visits NSPCC Centre
12 October 2017, 11:16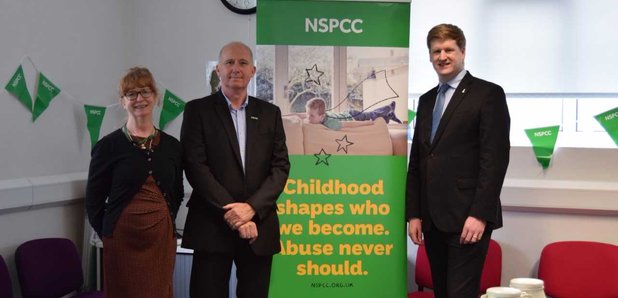 Kent's Police and Crime Commissioner has visited an NSPCC centre in Gillingham to how it helps children who have been sexually abused.
Matthew Scott recently awarded the NSPCC's Gillingham Service Centre £35,000 from his office's Victim Specialist Services fund.
The money has gone towards the costs of delivering the charity's Letting The Future In (LTFI) service which works with boys and girls aged between 4 and 17 who have been sexually abused and require treatment for emotional trauma.
Over a six month period, the child meets with a practitioner once a week in the setting of a special play room at the centre. During the sessions they take part in activities such as messy play, writing, storytelling and art.
Since the service launched at the centre in December 2011, up until 31 March 2017, LTFI has directly helped 153 children come to understand and move on from their ordeal.
Sarah Jenner, Service Manager at the centre, said: "Many children and young people have told us they feel confused and upset about what has happened to them.
"But play is a natural way for children to express themselves. It allows them to safely work through past experiences and come to understand and move on from what has happened to them but it can take up to a year before they're ready to move on.
"Parents and carers of children who have been sexually abused also play vital roles in helping their child recover so we also offer them individual support and some joint sessions with the child as part of the programme."
In 2015/16, in Kent, there were 853 referrals to children's social care where sexual abuse was identified as the factor behind this. Of these, 70 children were the subject of a child protection plan due to sexual abuse as of 31 March 2016, therefore showing the clear need for Letting the Future In to be delivered in Kent.
Mr Scott said: "This year I set aside £500,000 for projects which support victims with specialist needs. The people of Kent and Medway have identified child sexual exploitation as one of their top concerns and the work NSPCC does is fantastic so when the charity asked me for another £35,000 to deliver this service for another year I was only too happy to approve it.
"I am delighted to have been invited in to the Gillingham Service Centre to meet those on the frontline who help children through their darkest times."