M20 OPStack Solution Being Looked At
Highways England have released a statement after looking at Operation Stack emergency contraflow decision following meeting at County Hall on Friday 24th July 2015.


A Highways England spokesperson said:

"Highways England has looked into the possibility of a temporary contraflow system on the London-bound carriageway of the M20 when the coastbound carriageway is closed for Operation Stack.

"We have decided a contraflow would present a significant and unacceptable risk to the safety of road users and anyone required to work within it. We have presented our reasons to our partners, including Kent Police and Kent County Council, who support our decision.

"We are continuing our work with the task force to urgently review what other measures could be put in place to minimise disruption to local communities and allow safe, prompt and orderly movement of freight to the Port of Dover or Channel Tunnel."
Pictures Taken From NPAS_Redhill, Police Helicopter on Wednesday 29th July 2015. NPAS_Redhill tweeted about Operation Stack saying Kent Police and Kent Police Roads working working hard to get things moving. #OperationStack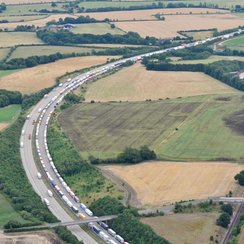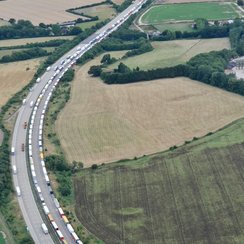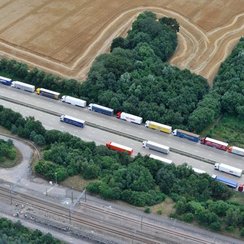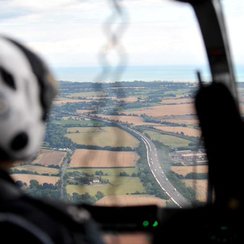 The reasons are:

- Using freestanding cones – the quickest way to set up a contraflow - to separate lanes of traffic for a long stretch of a motorway would expose drivers to the risk of collision with oncoming traffic.

- Any incident within the contraflow would be difficult for emergency services to access and could cause severe and unpredictable delays.

- Because of the extent of the traffic management involved, a contraflow could not be easily switched on and off. This would delay the full re-opening of the motorway, or the contraflow would have to remain in place 24/7.

- Congestion would be experienced at the entry to the contraflow section and at all adjoining junctions with local roads. A contraflow would cause disruption on the London-bound M20.

- A contraflow would also reduce the flexibility of Operation Stack, reducing the space available for queuing HGVs.

We continue to work closely with all involved to minimise traffic problems during periods when cross channel services are disrupted. However, some disruption is unavoidable so please check details before travelling and allow extra time.


There is an ongoing possibility of disruption to cross-Channel services as a result of industrial action and migrant activity in and around Calais.

The Kent Strategic Co-ordinating Group –the co-ordination group managing Operation Stack as an incident – remains completely committed to working together to improve how we help holiday-makers, freight and local road users travel when cross channel services are disrupted.

The Kent Strategic Co-ordinating Group is made up of a wide variety of agencies including Kent Police, Kent County Council, Kent Fire and Rescue, Highways England, NHS England, Port of Dover and Euro Tunnel.