Maidstone: Jail Over Catapult Attack
5 June 2015, 18:46
A man who fired a ball bearing into the face of a bus driver in Maidstone has been sentenced to six years in a young offenders institution.


An unprovoked attack by Callum Walters earlier this year left Nestor De Barros with the solid steel object imbedded into his cheek.

Walters, of Oaktree Avenue, Maidstone ran off following the assault on 2 March, but was caught after a CCTV image of him was circulated in a Kent Police appeal.

On the day of the assault, the 18-year-old had been travelling on a bus through Maidstone.

He thought the route would take him home and became abusive to 33-year-old Mr De Barros when it instead terminated in Enterprise Road.

After Walters had exited the vehicle Mr De Barros attempted to pull the bus away, but heard a loud bang.

He stopped to check for damage but found Walters waiting outside.

The teenager then fired a catapult at his victim from close range, lodging a ball bearing into his face.

CCTV images taken from the bus led to Walters being identified following a media appeal.

He was arrested on 28 March at his home address, where officers seized a catapult. He told officers it wasn't the same one used in the attack; this had been thrown away.

A tin containing ball bearings was also discovered as well as a grey Nike top which matched the one Walters was wearing in the CCTV footage.

Appearing at Maidstone Crown Court on 27 May Walters was sentenced to 6 years in a young offenders' institution.

He had previously pleaded guilty to wounding with intent to cause grievous bodily harm and to possessing an offensive w

Detective Constable Lynda Birch said: 'This was a cowardly and also completely unprovoked attack on a man who was simply trying to do his job.

'Walters took careful aim to ensure he struck the victim in the face and the consequences could have been far worse.

'The ball bearing was the size of a five pence piece and missed the victim's eye by just an inch.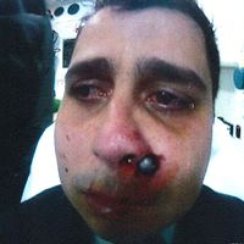 'He is now starting what is a substantial sentence and one which shows that violence on our streets will simply not tolerated.'