Man Jailed Over High Speed Chase
16 February 2017, 12:34 | Updated: 16 February 2017, 12:36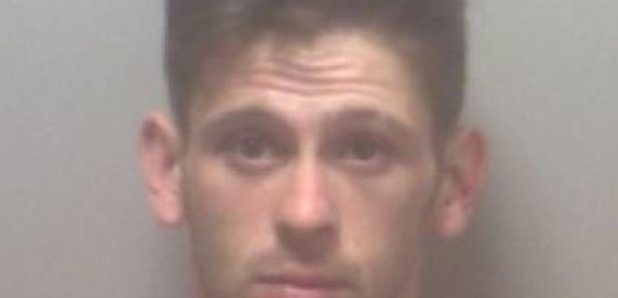 A man drove his car at a police office and caused £31,000 of damage to police cars during a high speed chase on the M20 has been jailed for 18 months.
Scott Flisher, 25 and of Elmwood Road in Chattenden, was spotted speeding by officers patrolling the M20 in August 2016 but refused to stop when requested to do so – which led to police giving chase.
Flisher pleaded guilty to dangerous driving, damaging/ destroying property, driving without a licence and driving without insurance and was sentenced at Maidstone Crown Court. He was also disqualified from driving for 33 months and will have to take an extended re-test.
The court heard that the pursuit began close to junction 8 of the M20 coastbound, near Lenham, at 5.48am on Sunday 28 August. Two officers were on patrol in a marked Land Rover Discovery when they saw Flisher travel past them at excess speed in a blue Seat Leon.
They activated their emergency lights but, instead of slowing down and coming to a stop, Flisher increased his speed to 110mph in a bid to get away. He left the motorway at junction 9, for Ashford, and drove through a set of red lights before re-joining the M20 on the London-bound side.
The pursuit then continued to junction 4, with Flisher reaching speeds of 120mph at certain points. He also drove down the hard shoulder to avoid a rolling road block being enforced by officers.
It ended with Flisher leaving the motorway at junction 4, for Maidstone, only to crash at a roundabout due to his speed. An articulated lorry had to brake suddenly to avoid becoming involved in the collision.
He tried to continue driving so officers performed a tactical manoeuvre to box him in. Once his car had come to a stop, an officer on foot approached the car to arrest Flisher however, as they were making their approach, he rammed his way through the police cars and deliberately drove in the direction of the PC. In order to avoid serious injury, the officer had to jump onto the bonnet of their car.
Flisher was then able to travel another 30 metres before another patrol car successfully pinned his car to a side railing. Flisher then escaped and ran off. He was finally arrested in an area of woodland next to the motorway.
Detective Constable Chris Relf, the investigating officer for this offence, said: "Flisher endangered the lives of countless motorists and police officers who were trying to bring him to a safe stop.
"There were ample opportunities for him to bring the pursuit to an end but instead he recklessly chose to try and escape. Aside from the collisions with numerous police vehicles he narrowly avoided an impact with a large, articulated lorry.
"It is down to sheer good fortune that no one was seriously injured as a result of Flisher's actions and the severity of this case is highlighted by the sentence the judge has imposed."