Manston; Airbus A380 Arrives
Crowds turned out to watch the A380 land at Manston at midday today. It will now be used to train BA crews and will be seen in the skies above Kent for the next few weeks.
Manston Airport's role as a contender in the South East aviation debate has been reinforced after the Kent airport welcomed British Airways? first Airbus A380, the world's largest commercial passenger aircraft.

The new addition to British Airways' fleet will be based at Manston Airport as part of the airline's training for its pilots, flight crew and cabin staff before the A380s enter service in September.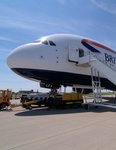 Each A380 aircraft can carry 469 passengers over two decks with four cabins. The A380 is rated as producing a quarter of the noise level of the Boeing 747-400 when landing. It also produces 10 per cent fewer NOx emissions. Powered by four Rolls Royce jet engines, the A380 is 16 per cent more fuel efficient than the aircraft it replaces.

Charles Buchanan, chief executive of Manston Airport, said: "It's exciting to think that Manston welcomed the first of our national flag carrier's A380s, and that Kent saw the distinctive union flag tail-fin before Los Angeles and Hong Kong, the airline's first routes for the new aircraft.

"We welcomed Prime Minister David Cameron recently when he officially opened the London Array wind farm and Manston's potential did not go unnoticed. With the debate over the future provision of airport capacity in the South East currently raging, the decision by British Airways to use Manston for training graphically illustrates the capability, flexibility and capacity of the largest under-utilised runway in the region.

"The team at Manston is very proud to be playing a part in bringing this fantastic aircraft into service for British Airways."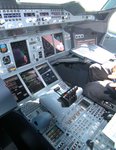 Captain David Thomas, British Airways' head of flight technical and training, said: "We are delighted to be based at Manston for the next few weeks. We've been made very welcome by everyone at the airport, and hope that the sight of the A380 in the skies over Ramsgate will be a pleasant surprise for local residents and visitors to the area."

Charles Buchanan concluded: "With the A380 arriving and the start of twice-daily KLM services to Amsterdam, 2013 is turning out to be a very exciting year for Manston."

Manston Airport has the capacity to serve one million passengers per annum today and a deliverable masterplan that accommodates five million or more. In addition, the airport currently handles more than 30,000 tonnes of freight a year and has the capacity to deliver 100,000 tonnes in the existing facilities, growing to 400,000 in the future.