Manston: Plans For Future Outlined
17 June 2015, 16:45
The owners of Manston Airport have outlined their plans for the site today. Read them below and hear Heart's interview with Trevor Cartner.
The main headlines are
*Two and a half thousand homes

*An Advanced manufacturing centre

*An East Kent sports park with a major swimming centre

*Possible use by Film studios

*Perhaps a grass runway could be kept for occasional use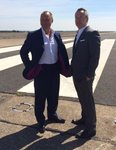 Protestors had gathered outside. They want the airport to reopen and are encouraging Thanet District Council to use a compulsory Purchase Order to buy the site, but Trevor Cartner who is behind the development says that is simply unworkable and the airport has never made a profit. in fact, he claims it was losing £12,000 a day.
Many people in the Manston area support re-opening the airport and back plans by RiverOak Investment Corporation of America who have made a number of offers for the site and say thay would financially back any move by Thanet District Council for a Compulsory Purchase Order.

One of those backing the RiverOak proposal is Marcus Russell who runs the Spitfire museum at Manston. He told heart that without a functioning airport they cannot survive.
Former Middlebrough mayor, Ray Mallon is part of the group proposing the development.

He went to meet the protestors at the gate and tried to hold a discussion with them.

This is how it went:

The North Thanet MP, Sir Roger Gale has been a long-time supporter of plans to keep the airport open and backs the idea of a Compulsory Purchase with support from RiverOak.

He told Heart that the battle to keep Manston open as an airport is not lost: