Margate: Shotgun Raiders Jailed
11 February 2017, 09:18 | Updated: 11 February 2017, 09:25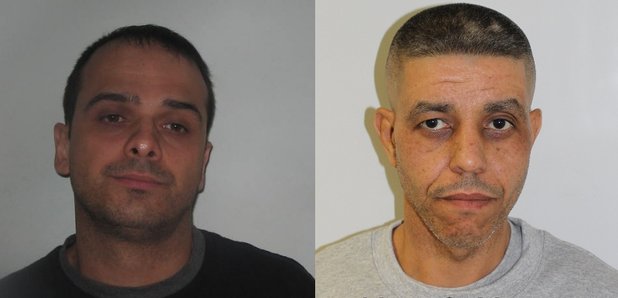 Two men who held up a security guard outside a supermarket in Margate with a sawn-off shotgun have been jailed for life.
The robbery at the Tesco Metro in Northdown Road last August was one of a series the pair carried out across the South-East over an eight-months period.
Nicholas Wordsworth, 43, of Fiona Court, Enfield and Mustafa Murteza, 48, of Tollington Road, London N7 were sentenced to life imprisonment at Kingston Crown Court.
Wordsworth was ordered to serve a minimum term of seven years and nine months; Murteza was ordered to serve a minimum term of seven years and five months.
The pair were arrested last November in Sandy, Bedfordshire, following an investigation by the Metropolitan Police's Flying Squad, supported by officers from Bedfordshire, Hertfordshire, Essex, Kent, Thames Valley and Sussex Police.
Armed officers stopped both men in a Honda Accord displaying false vehicle registration plates. The pair were found in possession of a loaded sawn-off shotgun, a gas-powered revolver, several rounds of ammunition, a stun-gun, a bullet-proof vest, a large hunting knife, masks and a full petrol can.
Detectives linked seven armed cash-in-transit robberies that had been committed across London, Essex, Kent, Sussex, Hertfordshire and Oxfordshire during 2016. In each robbery, the suspects wore dark clothing, face coverings and used sawn-off shotguns to threaten security guards to steal cash boxes they were carrying. The suspects would make off in a vehicle, which they then set alight.
Detective Inspector Mark Bedford from the Met's Flying Squad said: "These sentences mean that two extremely violent and dangerous criminals are now behind bars for a considerable time.
"These were well-planned, violent armed robberies during which both Wordsworth and Murteza terrorised security guards, as well as members of the public going about their daily business, and left them fearing for their lives. In my view, it was only through luck and good fortune that nobody was seriously injured or worse.
"This has been a lengthy and complex investigation spanning the south-east of England. It was only through the meticulous work of officers from the Flying Squad supported by colleagues from the Met's Specialist Firearms Command, Bedfordshire, Hertfordshire, Essex, Kent, TVP and Sussex police forces which ensured these individuals are no longer free to continue committing these violent offenc