Meet Kent's New Firefighters
31 January 2018, 07:09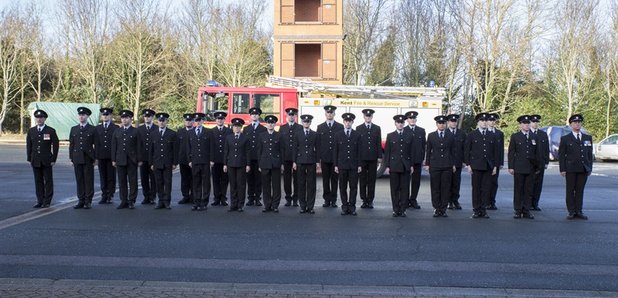 Kent's got some new firefights for the first time in 10 years.
More than 5,000 people applied but 22 men and woman made the final cut.
They're been through 15 weeks of training and are now being sent to fire stations across the county.
Kent Fire and Rescue Service followed its newest recruits throughout their rigorous training schedule, which started last September, creating a film of their journey to become trainee firefighters.
Having experienced a range of realistic scenarios to prepare them, the recruits successfully passed their final assessments and showcased their newly honed skills at their passing out parade, where they were congratulated by family and friends.
KFRS Chief Executive, Ann Millington said: "I'd like to congratulate our new trainee firefighters on passing their initial training. They have chosen to dedicate their lives to working for the people of our county and we know throughout their careers they will face very real challenges that will test them as people.
"However we know that because of their courage, compassion and skills they will be involved in life-saving missions that will bring great job satisfaction and pride.
"We thank them for joining KFRS and wish them the very best in their career. It is also very important to thank their families, as they too will very much be supporting our firefighters throughout their time with us."
For 27 year-old Emily Say becoming a firefighter was a job she dreamt about while still at school. Emily explained: "After leaving school, I went to university got a degree and worked in the city as a change analyst. But, I always knew my heart belonged somewhere else, where I can come home from work knowing I've made a difference.
"Whether fighting a fire or keeping people safe by fitting a smoke alarm, I'm so excited to be able to help the people of Kent and Medway. It's a dream come true."
Nathan O'Donnell, a 24 year-old freelance copywriter said: "While working as a writer I found each day was more or less the same. I wanted to work in a job where I could make a difference to people's lives, be part of a team and have a real sense of purpose and pride in what I did.
"When KFRS advertised, I knew I'd always regret it if I didn't apply. I put as much effort into every stage of the recruitment process and haven't looked back since."
The recruits have now all been assigned to fire stations, but their training and development doesn't stop here. They now enter a two-year development phase, during which time they will build on the core skills they attained during their initial training and will learn more about a wide range of incidents they may have to attend such as chemical spills, flooding and water rescue as well as delivering life-saving medical care and sharing vital safety advice.