Missing Woman Search In Faversham
8 November 2016, 12:45 | Updated: 10 November 2016, 11:32
Police searching for a vulnerable missing woman from Canterbury say they are now refocusing their search on Faversham.
Seventy-three-year old Paulina Manfredini, who suffers from dementia, was reported missing from her home in the Downs Road area on Saturday 5 November.
She was seen in London Road, St Dunstan's, at around 12.20pm on Saturday and at a café at the Gate Services on the London-bound A2 at Dunkirk at around 2.45pm on Saturday.
Now new information has been received that she caught a bus from the Westgate Towers in Canterbury and was dropped off at a bus stop in Station Road, Faversham, at 7.25pm on Saturday.
Inspector Terry Chuter said: "As a result of this new information we have re-directed our search to the Faversham area and are asking anyone in the town to phone us if they think they may have seen her."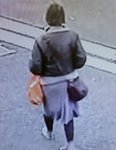 Police now know that Mrs Manfredini was wearing a brown bomber-style jacket and a skirt over black leggings and glittery Converse-type shoes when she went missing. She was carrying a Sainsbury's carrier bag and a handbag.
Inspector Chuter said: "The new photo we are releasing today was taken from CCTV on Saturday evening. There have been no confirmed sightings of Mrs Manfredini since then and we are obviously growing increasingly concerned for her welfare with every day that passes."