Mural To Tell Tunbridge Wells' Story
7 February 2017, 12:32 | Updated: 10 February 2017, 10:18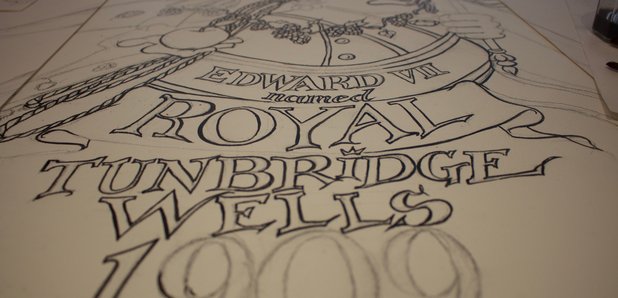 A huge mural, which will tell the story of Tunbridge Wells from the Iron Age to the present day, is being planned for the town's main train station.
Artist Chris Burke, who works as an illustrator and cartoonist for titles such as The Sunday Times, GQ magazine, the London Evening Standard and Vogue, has been commissioned to design 18 large panels to fill a three metre by 35 metre space on platform 2.
The huge work will start with the Iron Age forts built at The Rocks around 200BC, it will show how Tunbridge Wells became a spa town in 1606 and include the period when celebrated dandy and 18th century fashionista Beau Nash became Master of Ceremonies and boosted local tourism.
The panels will also show how the town became a major draw for royals and arisocrats alike, the start of the railway and the opening of Tunbridge Wells' station in the 1840s, and the gaining of the title Royal Tunbridge Wells, which was agreed by Edward V11 in 1909.
Chris, 61, who will have the entire work in place by the end of March, was awarded the commission after he demonstrated his plans to involve the local community.
And on Saturday February 18 he will be holding a special drop in session at Royal Victoria Place shopping centre, where he is currently being provided free studio space.
There, members of the public will be able to turn up and talk to Chris about what they would like to see on the 18th and final panel, which will cover the period 1900 to now.
Chris, who lives in the St. James area of the town, said: "It is great to be able to work on this project. It is a mammoth task to create a mural of this size which will tell more than 2,500 years of history and to have it in place by the end of March, but I am very excited by this.
"It will be great to have a piece of work in such a visual location for so many passengers to see when it is completed."
Chris is currently drawing the designs for each panel. These will then be photographed by a special hi-res camera and placed on vinyl, which will be attached to aluminium and placed on the massive panels that will adorn the walls at platform 2.
Southeastern Managing Director David Statham said: "It is very good news that Chris has agreed to work with us to provide this stunning piece of work for platform 2 at Tunbridge Wells, which will recall the history of the area.
"This is a very exciting project and will be in place for all our passengers to see for years to come."
Chris was awarded the commission after Southeastern teamed up with local stakeholders including the Tunbridge Wells Town Forum, Refresh Tunbridge Wells and Royal Tunbridge Wells Together who are all supporting this project.