New Flyover To Help Cut Delays
31 May 2018, 09:38 | Updated: 31 May 2018, 09:43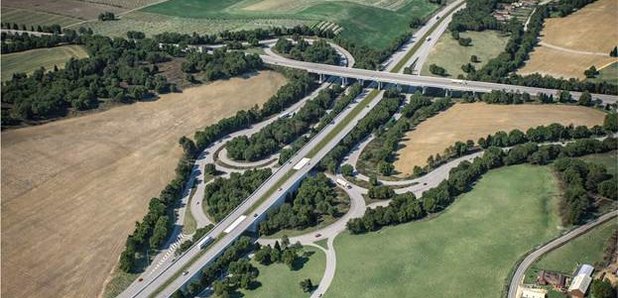 Road bosses have revealed plans for a major upgrade to help cut congestion at one of Kent's busiest junction.
A flyover will be built on the A249 near Sittingbourne, so less people have to use the Stockbury Roundabout.
Highways England says the proposals follow feedback given to a consultation on boosting capacity and work could start as soon as 2020.
Programme leader Steve Hoesli said: "The Stockbury roundabout junction is a vital interchange between two of the county's busiest roads.
"These improvements will simplify journeys for people travelling to and from Sittingbourne, the Isle of Sheppey, port of Sheerness and Maidstone, which is great news for anyone living, working or travelling in the area.
"Around 2,000 people took part in the consultation; it was clear from people's feedback that these improvements are desperately needed, but also that just upgrading the roundabout would not be enough.
As well as the new flyover providing an uninterrupted flow for drivers on the A249, there will be two new dedicated single left turn filter lanes for traffic travelling between the A249 and the M2.
The existing slip road leading to and from the M2 to the Stockbury Roundabout will also be improved. The roundabout will be freed up for drivers making other turns at the junction, and for local traffic. Better and safer links will be created to and from the roundabout.
The upgrade will also provide better facilities for cyclists, pedestrians and horse riders in the vicinity of the junction.
Funding for the scheme comes from the Department for Transport's £15bn Roads Investment Strategy, announced in 2014, together with a £2.5 million contribution from Kent County Council and their partners.
Anyone interested in the scheme can sign up to receive updates via the project page on the Highways England website.