New Plans For Garden City Revealed
30 September 2016, 09:16
Detailed plans and artist's impressions have been released for the first time by the people behind a new garden city being built on the Thames Estuary.
Seven developers have already started creating hundreds of the 15,000 new homes planned for Ebbsfleet Garden city over the next 15 years. A primary school is also due to open on the site next September.
Now details have been revealed of a new commercial centre, improved public transport and seven city parks which will be developed as part of the project.
Pedestrian bridges and walk and cycle ways will link Swanscombe, Northfleet and Greenhithe with the rest of the garden city as eight new villages are established alongside existing communities.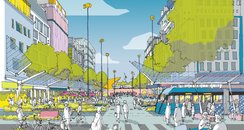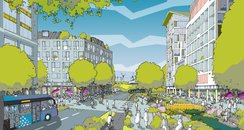 Paul Spooner, interim chief executive of the Ebbsfleet Development Corporation (EDC), said rapid growth in house building was taking shape, and the plans marked an "historic milestone'' in the project's future.
The scheme was announced amid great fanfare by then chancellor George Osborne in his 2014 Budget with a promise it would build on the example of developments such as Milton Keynes and Welwyn Garden City.
Mr Osborne said at the time that the scheme would help ease housing pressure in the south east where rocketing prices and high rents meant many struggled to get on to the property ladder.
The EDC said a new commercial centre would be built around Ebbsfleet International Station which could link people with central London in 17 minutes and Paris in two hours.
And more than 30,000 new jobs could be created in 45,000sq m of commercial space. A new primary school being built would open to its first intake of pupils next September.
And the garden city would see upgrades to the Fastrack bus system and new promenade walks would open up public access to the River Thames in the area for the first time in a century.
EDC chairman Michael Cassidy said: "The pace of growth in the garden city over the last 12 months has been impressive with major developers now on site building hundreds of homes.''
Read more here