New Thames Crossing Route Revealed
12 April 2017, 12:47 | Updated: 12 April 2017, 12:53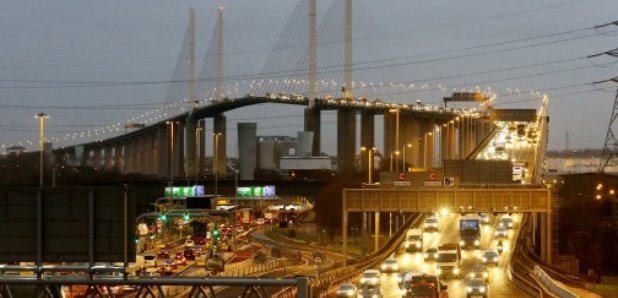 The Government's given the go ahead for a new tunnel to be built under the Thames linking Kent and Essex, to ease congestion at the Dartford Crossing.
The new link will run from the A2 east of Gravesend to join the M25 on the other side at Tilbury, and will be the first new crossing of the Thames east of London since the Queen Elizabeth II bridge opened in 1991,
It's expected to be competed by around 2025-2027 at a cost of up to £6bn.
A shortlisted option to build a bridge or tunnel next to the existing Dartford Crossing was rejected.
Around 4.5 million heavy goods vehicles are predicted to use the new crossing in its first year.
The Dartford Crossing is used for 50 million journeys annually and is often the cause of frustration for motorists stuck in traffic jams.
AA president Edmund King said: "The case for greater road capacity across the Thames is overwhelming and overdue. There are half as many crossings of the Thames than there are across the Seine in Paris.
"The new crossing should help to spread the load, as well as bringing welcome regeneration to areas east of the Dartford Crossing.
"For traffic coming from the north-eastern section of the M25, this new route will give much better and more reliable access to the important port of Dover.''
RAC Foundation director Steve Gooding said: "The need for extra road capacity between Kent and Essex will already be well understood by long-suffering users of the existing crossing.
"Now that this long-awaited decision has been made, drivers will be keen to know when today's promise of shovels in the ground will actually deliver the capacity needed to ensure safe and reliable journeys.''
Public transport groups claim ministers should instead focus on improving rail links.
There are also fears that traffic using the new crossing will blight communities with pollution on approach roads.
The Department for Transport announced that a further £10 million will be used to improve traffic flow around the existing crossing, while £66 million is being invested by the Government to widen the nearby A13 Stanford-le-Hope bypass.
Bridget Fox, of the Campaign for Better Transport, said: "Building a major new road through protected countryside is not the right way to address the long-standing problems of traffic, much of it HGVs, through Kent.
"Instead of squandering billions on yet another expensive new road that will inevitably fill up with traffic, leading to more congestion, a better solution would be to expand port capacity north of the Thames, improve freight and passenger rail links to Kent and look at measures like distance-based HGV charging to better manage traffic.''