Pembury: Armed Robber Jailed
14 July 2015, 13:25 | Updated: 14 July 2015, 13:38
A convicted armed robber who hid two sawn-off shotguns in his loft in Pembury has been jailed for nearly eight years.
Stephen Castle had been banned for life from possessing any firearm following previous sentences for firearms offences.
The 50-year-old had been jailed for 10 years in 1997 for a robbery on a Tunbridge Wells jeweller. In 2007 he was sent to prison again after planning another robbery in Sussex.
Kent Police found weapons hidden under loft insulation, along with 10 shotgun cartridges, when they searched his home in Bellfield Road 28 January 2015.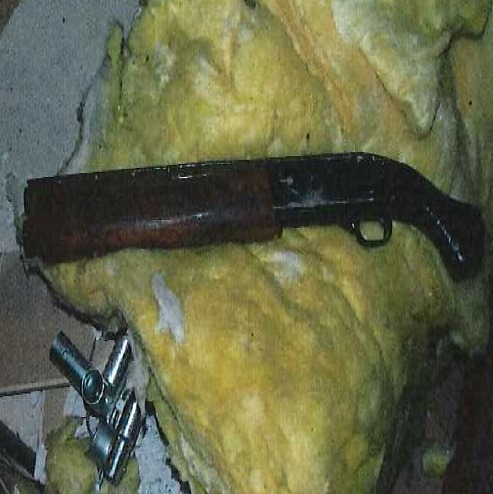 They also found bags containing walkie talkies, Halloween masks and what appeared to be a disguise kitbag, containing several articles of Royal Mail clothing.
Castle was arrested and denied any knowledge of the firearms during police interview.
He claimed other items seized were "fancy dress" and toy radios used by his children, even though he had no children under the age of 18.
Forensic tests later detected his DNA on one of the guns, while Castle's fingerprints were also on material wrapped around the second weapon.
Appearing at Maidstone Crown Court Castle, he pleaded guilty to two counts of possessing a firearm and of possessing a firearm when prohibited for life.
On 9 July he was sentenced to a total of 7 years and 8 months in prison.
Detective Inspector Karen Festing said: "Castle had gone to considerable lengths to hide weapons in his home, carefully wrapping them in bin liners and bags before concealing them under loft insulation.
"As well as the seized shotguns, he was unable to explain the presence of post office uniforms, masks and walkie talkies, which were all set to the same channel.
"It is highly likely that Castle was planning to carry out a serious offence and clearly the best place for him is behind bars.
"I'm pleased the courts have recognised the danger he poses to the public and that the judge has passed what is a substantial prison sentence."