People Smuggling Gang Jailed
18 September 2017, 18:24 | Updated: 18 September 2017, 18:26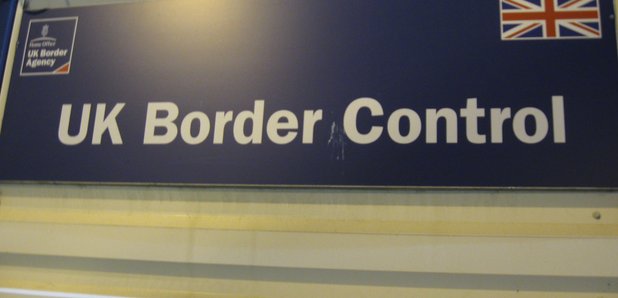 A three-year-old girl was hidden in the boot of a car with two adults as a gang tried to smuggle Albanian nationals into Kent.
Six people have been jailed for their role in what Judge Simon James described as "a professionally organised criminal organisation" set up to profit from human trafficking.
The judge handed down sentences ranging from 20 months to five-and-a-half years at Canterbury Crown Court on Monday.
Border Force officials stopped a car at the UK Control Zone in Coquelles, France, on March 12 2015 and discovered a man, woman and child, confirmed by the Home Office as a three-year-old girl, in the boot.
The driver was Lee Anderson, 46, and his passenger was Jason Cowley, 44. They were both arrested at the scene.
On August 2 2015, a car driven by Gillian Barker, 47, was stopped at the same controls.
Officers found two Albanian men hidden in the boot and Barker was arrested.
On both occasions, the Albanians found in the cars were handed to the French authorities.
Investigations linked both smuggling attempts to Ilir Hani, 44, Eduart Karaj, 40, and Vullnet Karaj, 41.
Eduart Karaj, of Icknield Port Road, Cowley, of Borrowdale Road, Anderson, of Titiana Close, and Barker, of Lismore Drive - all in Birmingham - pleaded guilty to conspiring to facilitate the commission of a breach of the UK immigration law by a non-EU person at a previous court hearing.
The woman and child who were in the boot were said to be the cousin and second cousin of Eduart Karaj.
Hani, of Malins Road, and Vullnet Karaj, of Great Colemore Street, also in Birmingham, were convicted of the same offence after a five-day trial.
Sentencing the defendants on Monday, Judge James said it became "abundantly clear" that the operation would have continued had it not been detected.
Despite the suggestion that two of those smuggled were family members, he said: "This was not an operation motivated by altruism or compassion."
The judge, who said there was "undoubtedly a hierarchy in this conspiracy", told the group that they were all knowingly playing a vital part in a wider criminal enterprise.
He said Vullnet and Eduart Karaj were the architects and guiding forces.
The judge said Vullnet Karaj played an organisational and management role as he sentenced him to five-and-a-half years - the longest sentence of the group.
Sentencing Eduart Karaj to five years, the judge said he appeared to be the point of contact for the defendants, adding: "The evidence points to you being at the heart of this operation."
Hani, described as a trusted lieutenant, was jailed for four years and the judge pointed out how he "cynically" tried to blame Barker during his trial.
Cowley and Anderson were both jailed for 30 months, with the judge saying they had a limited role.
Barker, who was crying and appeared to be very distressed, was sentenced to 20 months imprisonment.
A Home Office spokeswoman said it was not known how long the people had been in the car boots before officials stopped the vehicles.
David Fairclough, assistant director, Immigration Enforcement's Criminal and Financial Investigation (CFI), said: "This was an organised crime group, motivated by money, that has been dismantled thanks to the dedication and expertise of Immigration Enforcement and Border Force officers.
"The border detections were only the start of our investigations.
"As time passed, Eduart Karaj, Vullnet Karaj and Hani may have believed that their offences had gone undetected, but my officers were digging deeper, gathering the evidence that would ultimately ensure that they too were held to account for their offences.
"This case sends a clear message. We are patient people and never stop looking for those involved in immigration crime."
Paul Morgan, director at Border Force South East and Europe, said: "The Border Force detections were the crucial first step in bringing these offenders to justice.
"Border Force officers are on the frontline, keeping our borders safe and secure. We will continue to work with law enforcement colleagues to ensure that people smugglers and traffickers face the consequences of their crimes."