Plans For M2 Improvements Revealed
6 September 2017, 12:48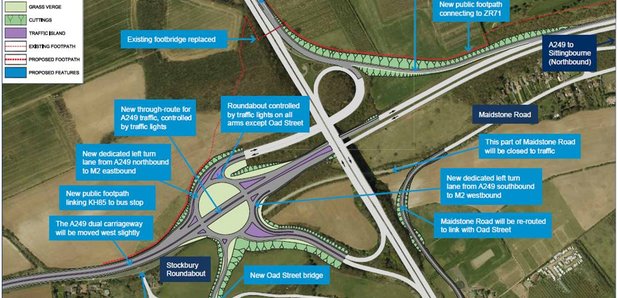 Plans for a £100million upgrade of a busy roundabout off the M2 near Sittingbourne have been revealed by Highways England.
Highways England says the proposals for the Stockbury Roundabout near Sittingbourne are designed to make journeys safer and more reliable for drivers.
Works would see the roundabout itself enlarged, with a new through route for A249 traffic; there would be new dedicated left turn filter lanes for traffic travelling between the M2 and the A249; a new single lane slip road from the M2eastbound to the A249 northbound to avoid the Stockbury roundabout altogether, and measures to improve facilities for people using the junction on foot.
Highways England Senior Project Manager Neil Andrew said: "The Stockbury junction provides a vital interchange between the M2 and A249 and is heavily congested during peak periods each day. This junction is currently one of the top 50 national casualty locations on England's strategic road network, and we are consulting on the proposals to improve the junction, which will not only improve safety, but also help to boost the economy and support development of homes and jobs in the local area. I urge anyone interested to send us their feedback and to come along to one of our exhibitions."
Funding for the scheme comes from the Department for Transport's £15bn Roads Investment Strategy, announced in 2014, which is providing people with better journeys, cutting congestion and improving the economy.
A public consultation on the proposals starts today and runs until 17 October.
Highways England is holding five information exhibitions at venues in Sittingbourne, Stockbury, Sheerness and Maidstone so that people can examine the proposals and put any questions directly to the project team.