Queen In Kent
28 June 2013, 16:45
The Queen has been in Kent visiting soldiers from the Argyll and Sutherland Highlanders at their base in Canterbury.
The 5th Battalion, the Royal Regiment of Scotland are being relocated from the city after ten years, due to army restructuring plans.
On Tuesday, hundreds of members of the regiment marched through the streets of the city in a farewell parade.
They were exercising their Freedom of the City for one final time, parading with swords drawn, bayonets fixed and to the sound of drums and pipes.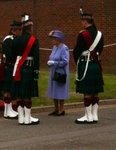 On Friday, Her Majesty, who is Colonel In Chief of the Battalion oversaw a final inspection and parade at Howe Barracks.
She then met families of the soldiers; the two Shetland ponies who are the regimental mascots and had lunch before leaving by helicopter.
It rained, but the families told Heart it did not spoil the day which many described as the loss of a 'little piece of history.'
The Queen could not hide her amusement when she toured the barracks of the Argyll and Sutherland Highlanders and saw an officer - getting ready for bed.

With his Union flag onesie - adult romper suit - and matching duvet and pillow, Lieutenant Alan Garrett looked very much at home in a mock-up of a field camp bedroom.

The Queen came across the officer during a visit to his unit's military base in Canterbury and she smiled as she spotted his additional creatures comforts of a large dram of whisky and a candelabra to set the nocturnal mood.

Major Alan Carmichael, Quartermaster of the Argyll and Sutherland Highlanders, 5th Battalion, Royal Regiment of Scotland (5 Scots), said: "Like everyone else she likes to see funny things.''

He described how they had set up a field camp bedroom for the visit: "We had an officer, he was sitting on his bed - she saw the funny side in that.''

The day was tinged with sadness as it was the last time 5 Scots went on parade, because from tomorrow its numbers will be reduced to a company following Army restructuring.

Maj Carmichael said: "Today was an extremely proud day. We had a fantastic parade and Her Majesty was moved by our soldiers she met and enjoyed a luncheon with officers and sergeants.''
Lance Corporal James McGoody and others on Queen's visit