Kent Murder Victim is One of Four As Serial Killer Found Guilty
23 November 2016, 16:44 | Updated: 23 November 2016, 17:32
A man has been found guilty of the murder of Daniel Whitworth from Gravesend, along with three other men he meet on a dating app.
The 999 call a serial killer made after he murdered one of four men has been released.
41-year-old Stephen Port from East London has today been found guilty of murdering four men he met on a dating app.
After meeting the young men, he gave them a fatal overdose of drugs, before raping them and dumping the bodies in a graveyard.
Daniel Whitworth, 21, from Gravesend, Gabriel Kovari, 22, from Slovakia, Anthony Walgate, 23, from Hull and Jack Taylor, 25, from Dagenham were the four men Stephen Port murdered.

The 999 call made by Stephen Port.
Police have not ruled out the possibility there could be more victims and have praised those who have already come forward.
In total Stephen Port was accused of 29 different counts, he was found guilty of 17 counts which related to 10 of 12 alleged victims, including the 4 murders.
It's thought the police are now looking in to 58 unexplained deaths linked with the drug that Stephen Port used in his crimes.
Seventeen police officers are under investigation by the Independent Police Complaints Commission over how the deaths of the four victims were investigated before they were official linked. Seven of those could face the same if claims of grade misconduct are proved over the catalogue of failures in catching the serial killer.
The family of Daniel Whitworth have vowed to fight on for answers on the police handling of the case.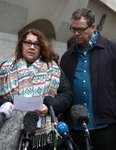 Daniel Whitworth's stepmother Mandy Pearson supported his grief-stricken father Adam throughout the trial at the Old Bailey Speaking outside court following Port's conviction, Ms Pearson said the ``circle of camaraderie'' among the affected families had helped see them through the ``dark days''.
She said:
`As for our boy, Daniel, we feel unable to comment in any detail at this time, suffice to say, we are bereft at the loss of such a clever, talented and much loved boy and we have yet to concentrate on other areas of accountability.
'An investigation is, as I am sure you are all aware by now, in the hands of the IPCC. The fight goes on until all our questions are answered.'
`Our small family has had to endure unspeakable grief, various stages of 'coming to terms' and face up to some of the most incredible turn of events in the space of two years.
`It has been difficult to say the least and has had a huge impact on our lives which will never be the same again. We are emotionally and physically exhausted.
`Today has marked the end of a large part of our battle. Stephen Port has been found guilty of murder and we are one step closer to making sure he will never have the opportunity to put another family through this again.
`This is our goal and we have been fully supported by professionals and volunteers alike at the Old Bailey.
On having to sit through distressing evidence in the trial, she said:
`The families, the jury and all in attendance have been subjected to information and visuals that will remain with them, and us, forever.
`Both truth and lies have been endured in equal measure and at times have proven more than anyone should or can take on board.
She thanked the witness service for helping them through a ``sea of legalise'' as well as the murder squad ``who have worked relentlessly to bring us to today's conclusion with as little upset as is possible, making sense of complicated legal matters as well as offering and providing continual support along the way''.