Sheerness Drug Raids
2 February 2017, 09:07 | Updated: 2 February 2017, 12:38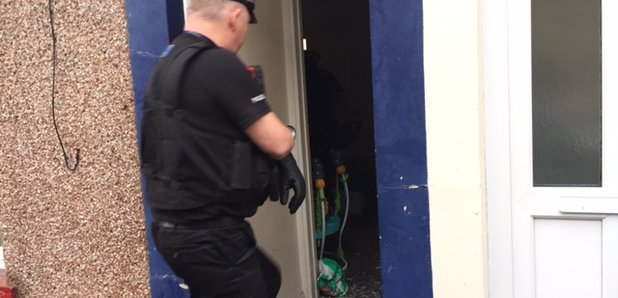 Kent Police officers have been carrying out a special operation in Sheerness to tackle drug-related crime and antisocial behaviour in the community.
The week long operation started on Monday 30 January 2017 and has so far included seven drugs warrants and routine stops in the town.

Officers and dogs have been out in force in the town centre and surrounding areas to sniff out suspicious activity supported by the British Transport Police (BTP) whose officers are patrolling Sheerness train station and railway line.

Two men from London were arrested on Monday after officers spotted them driving around the town looking suspicious. The men were found to be in possession of Class A drugs along with a large sum of money. Officers have also arrested a man and a woman following the discovery of cannabis growing in a property in Leysdown.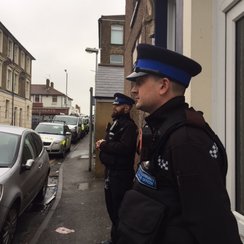 Inspector Tom Mepstead who is running the operation said:

'We have seen an increase in drug-related crime and antisocial behaviour in Sheerness recently and have taken into account valuable information that has been reported to us by people living in the local community.

'This information has helped us with our investigations and has given us a better picture of the illegal activity that is taking place. It has allowed our teams to put together a list of several addresses where we believe drug crime is taking place.

'We want people to feel safe in Sheerness and we hope that residents will be encouraged when they see more of us in the town. We want people to know that we do act on the things that are reported to us and our priority is always to bring criminals to justice.'

Officers also worked with Swale Borough Council to set up a street clean, where offenders serving community sentences rolled up their sleeves to pick up litter, clean and tidy the streets.

Tom added:

'This is primarily a council run project but highlights the collaborative work we do with other agencies. The public were pleased to see offenders out helping to make the area a better environment to be in and we believe clean and tidy streets encourages people to conduct themselves in a better way.

'This also gives offenders the chance to rehabilitate and give something back to the community.'

The special operation will continue to run until Friday 3 February 2017.