Sick Dover Baby Home For Christmas
23 December 2017, 07:16 | Updated: 23 December 2017, 07:19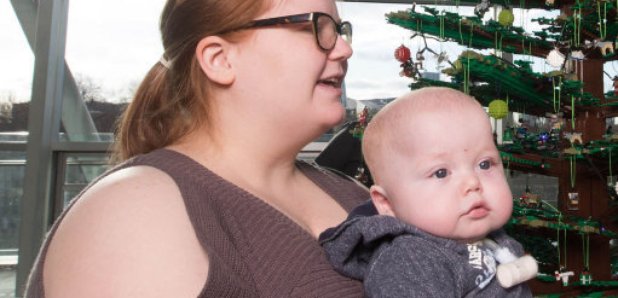 A Dover baby born with a serious heart defect, who spent nearly the first year of his life in hospital, has been able to go home in time for Christmas.
Thomas King turned one on December 21 and has been treated at Evelina London Children's Hospital for most of his young life.
He was born with the condition Hypoplastic Right Heart Syndrome - meaning the right side of his heart, including the chambers, valves and blood vessels, were underdeveloped.
Weighing less than four pounds at birth, Thomas was given just a 30% chance of survival.
His parents Ryan King, 30, and Emma Page, 24, from Dover, were told he would need three complex heart operations, the first shortly after birth and the next aged three, to repair the problem.
Mr King said having their son home for Christmas is the "best present" they could have wished for, and that it is "wonderful to think" about how far Thomas has come in the past year.
"We will never know how long he will be here so our time together is precious and we want to create memories as a family," he added.
The tiny baby spent his first Christmas on the hospital's neonatal unit, and at one-month-old had his first operation to direct blood flow to his lungs through a small tube called a shunt.
As Thomas got stronger he eventually came off his ventilation but as a result of being on it so long his airway had narrowed, with attempts to correct this unsuccessful.
Thomas was then fitted with a plastic tube called a tracheostomy that was inserted into his windpipe to create an artificial airway that would help him breathe.
His parents have since been trained how to use, change and deal with his tracheostomy and ventilation equipment - something he will likely need until he starts school.
Ms Page said they spent so long at the hospital with their sick son that it started to feel like home and the staff became like family.
"Even though it was lovely to go home, it was also hard to leave," she said.
"On our last day the play specialists threw us a leaving party and we thanked everyone - it was a very emotional send off. We will miss them all.
"The staff have helped us a lot, as well as Thomas. We can't fault the care he has received and the staff were always there for us all.
"Even after his first heart surgery, his surgeon phoned us at 11pm from home to check how he was. It's not just a job - the teams here really care.
"He adores the nurses and they love him as if he was their own. Thomas always got lots of love and cuddles from everyone who looked after him.
"We would recommend Evelina London to anyone in our position - it's an amazing place."
Dr Sadia Quyam, consultant paediatric cardiologist at Evelina London, was one of the team of specialists who looked after Thomas.
She said: "Thomas and his family have been through a great deal, his parents have been incredibly patient and brave throughout his stay.
"Seeing Thomas so much better is, of course, very rewarding and I'm excited for his family that he can finally go home. It's been a privilege to be involved in his care."