St Mary's Bay: Two Men Jailed Over Post Office Raid
22 October 2014, 15:39
An armed robber held up a post office just two weeks after being released from prison for a previous robbery on the same premises.


Billy Williams was jailed for seven years for robbing the post office in St Mary's Bay, Dymchurch, Kent, in July 2010, and committed the second offence after being released on licence at the beginning of this year, Kent Police said.

The 22-year-old and his brother-in-law, Harry Powell, also 22, threatened the cashier with a handgun and left with #10,780 in cash and #2,565 of stamps on the morning of February 15, a police spokesman said.

The cashier, who was in her 50s, pushed the counter's panic button but the men left the scene in a black Ford Escort which police later found partially burnt out nearby.

Forensic officers found clothing, a cigarette butt, a crowbar and some stamp books in the abandoned car, and Williams' DNA was found on a piece of clothing, police said.

Williams, from Lydd, was jailed for four years at Canterbury Crown Court today for robbery and possession of an imitation firearm to cause fear of violence, police said.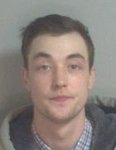 Powell, from New Romney, handed himself in to police on February 21 and was charged with conspiracy to commit robbery. He was sentenced to 20 months imprisonment at the same court.

Both men had pleaded guilty to the offences at an earlier hearing, a police spokesman said.

A third man arrested and charged in connection with the incident was acquitted following a trial.

Detective Sergeant Mat Scott said: "Warrants were executed at various addresses on the morning of February 19.

"Some of the cash reported stolen had been #5 notes, freshly delivered to the post office in unopened bundles with sequential identification numbers.

"Some of these unique notes were found at Williams' home, further linking him to the crime.''

He continued: "That Williams would target the same post office, and the same cashier, he had robbed three years earlier shows an incredible lack of remorse.''