Teenager Arrested In Thanet After PCSO Assaulted
6 October 2018, 07:11 | Updated: 6 October 2018, 07:19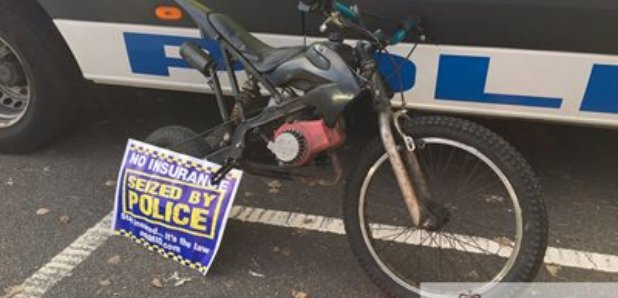 Officers in Thanet have arrested a 14-year-old boy on suspicion of assaulting a PCSO and traffic offences.
It followed reports of anti-social riding of motorbikes and scooters seen in Garlinge and Margate.
Officers stopped a bike in Westfield Road in Garlinge on Thursday October 4th after it was seen by officers to travel over both the road and pavement in a dangerous manner.
The custom-built bike, which is half a mini-moto, combined with the handle bars and front tyre of a BMX bicycle, was seized and due to it bring ridden on a road when it was not road-legal, will not be returned.
The teenager from Margate was taken into custody on suspicion of dangerous driving, driving without a licence and without insurance. He was also arrested on suspicion of assault in relation to an earlier incident in which a PCSO was assaulted.

He has been released pending further enquiries.