Teenagers' Plans To End Poverty Stigma
7 December 2018, 11:39 | Updated: 7 December 2018, 14:03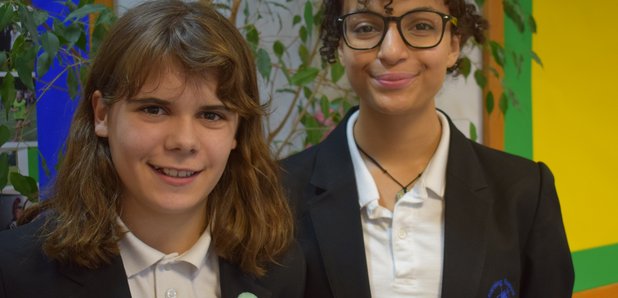 Freya and Rawan have been chosen to represent Homewood School at a national conference at Kent University.
Two students from Homewood School & Sixth Form Centre in Tenterden have been selected from dozens of young campaigners across Kent to take part in a national anti-poverty event at the
Gulbenkian
, in Canterbury, on Saturday 8 December 2018.
Freya (Year 9) and Rawan (Year 11) will join 13 other Kent youngsters and many more from across Britain at the event, which aims to help generate new ideas on how to smash the social stigma of living in poverty experienced by young people in schools, online, in the media and throughout society in general.
The one-day event has been arranged by youth tech organisation ThinkNation and anti-poverty project Twist-It, which is supported by the Joseph Rowntree Foundation.
Both Freya and Rawan started helping to raise awareness for important causes when they were quite young. Freya was in year 4 at primary school when she got involved with her first campaigns: raising money to fund a clean water pump in India through Water Aid and then running a school stall in aid of marine conservation. More recently she was involved with a school initiative to try to reduce the use of plastics and increase recycling. Freya says: "If we don't become aware of a problem, then no-one will discuss it and then nothing will be done to solve it. I believe that if we can get one big thing sorted, other things will follow."
Rawan, who joined Homewood in January, was previously heavily involved in debating and with the United Nations Youth programme at her school in Qatar. She attended her first UN Youth conference in year 8 and was an active member of her school Human Rights Committee. Rawan says: "I think child poverty is one of the biggest humanitarian crises of our age. That we are becoming desensitised to this is concerning. In particular, the current negative attitudes to refugees really resonates with me because of my own Arabic roots."
The duo will take part in an intensive all-day workshop, supported by professional mentors, followed by an evening event Think Nation: Twist-It Live!, hosted by filmmaker and journalist Billie JD Porter (BBC and Channel 4), at which they will present their collective ideas to an invited audience of several hundred people. The evening will also include performances by Louisa Roach, lead singer and songwriter for Liverpool-based band She Drew the Gun, readings by ground-breaking young poets, and the premier of a film about the Battersea Arts Centre's BeatBox Academy.