Two Jailed After Robbing School Boys In Leysdown
9 March 2019, 08:18 | Updated: 9 March 2019, 10:05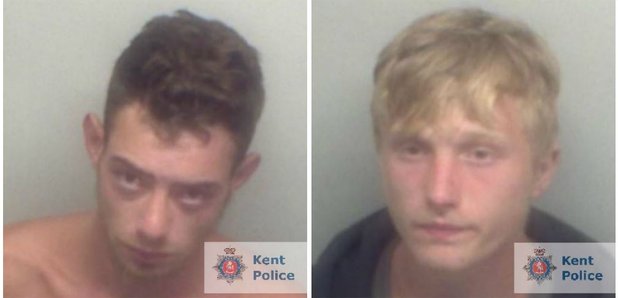 Two men who threatened and robbed schoolboys in Leysdown have been jailed.

Two men who robbed schoolboys of a watch and rolling tobacco have been jailed for over four and a half years between them.
John O'Shea and Alfie Robinson threatened the teenagers with violence before stealing the items in Leysdown in July 2018.
Both offenders were sentenced at Maidstone Crown Court on Thursday 7 March 2019.
The court heard that on the evening of 18 July 2018 officers on patrol in Warden Bay, Leysdown, were flagged down by a man who reported his 13-year-old son, and his 16-year-old friend, had been robbed.
The victims stated that O'Shea and Robinson had approached them threatened them with violence. They went on to steal a watch, rolling tobacco and cigarette papers.
Officers conducted an area search and went on to locate O'Shea inside a tent in a nearby wooded area. Robinson was standing outside and both were arrested on suspicion of the offence.
In addition to the robbery, O'Shea was also charged with intimidating a witness shortly after being released from custody.
On one occasion he threatened to harm the family of the victim if they did not drop the allegation and on another he told the victim to 'get off his turf' after seeing him in Leysdown.
O'Shea, 21 and of Eastern Road in Leysdown, was sentenced to two years and eight months after being found guilty of two counts of robbery and witness intimidation.
Robinson, 19 and of no fixed address, was sentenced to two years after being found guilty of robbery and admitting a further count.
Detective Constable Craig Hewitt, the investigating officer for this case, said:


'The very nature of this offence was deeply malicious.
'O'Shea and Robinson are both grown men and targeted young boys who they knew would not be able to defend themselves. They then threatened them with violence so they could steal items of a relatively low value.
'The sentence they have received is entirely justified and I hope the victims can take comfort from the fact both offenders are in prison, where they are unable to harm other members of the public.'