Warning Texts At Level Crossings
17 July 2017, 11:44 | Updated: 17 July 2017, 11:49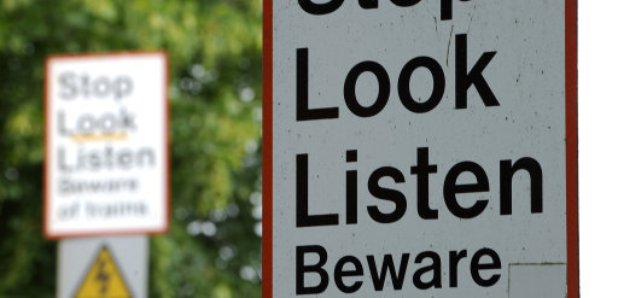 People on their mobiles near five level crossings in Kent will now be sent warning text messages, urging them to put their phone away.
The trial by Network Rail and British Transport Police comes as new figures reveal that young people are more likely to have a near miss at a level crossing during the summer, when lighter nights and the summer holidays mean they will be outdoors for longer.
Many of them will simply be distracted when crossing the railway, either by their friends, their phones or their cameras.
To help combat the issue of distraction at level crossings, geo- targeting is being introduced at a number of level crossings where phone distraction has been flagged as high risk.
One of the crossings targeted is Simpson's foot crossing, near Sittingbourne, where this video was taken using CCTV earlier this year.
The young people in the footage were identified and the dangers of their actions explained to them by Network Rail community safety manager Nicola Dooris.
She said: "Many young people simply don't think about the dangers of the railway and parents will know how difficult it is to drag their kids away from their phones or other tech.
"Those two factors together mean that we have a constant battle to get through to children to help them stay out of danger. Anything parents can do to help us could make all the difference."
New data has revealed that over two thirds (70 per cent) of near misses are due to distraction, with the top three distractions at level crossings highlighted as friends (40 per cent), headphones (20 per cent) and mobile phones (12 per cent). Almost a third (29%) of young adults admit to using their mobile phone while crossing the railway. A huge 95 per cent of under 25 year olds report owning a smart phone and spend twice the amount of time on their mobile than the average user.
The Kent Locations where the geo-targeting message will be broadcast are:
Dibley's foot crossing, Chartham , near Canterbury in Kent
Glebe Way foot crossing, Whitstable, Kent
Whitehall Road, level crossing, Canterbury, Kent
Simpson's foot crossing, Sittingbourne, Kent
Teynham West foot crossing, near Faversham, Kent