Claire's Weird News
6th September

Holidaymakers in Germany can now pitch their tents at the world's most extreme site halfway up a sheer rock face.

The camping trip 500 feet up a ledge in the Bavarian Alps is proving a huge hit.

The only things you are allowed to take with you are a sleeping bag, a rope and a packed lunch.
5th September
A family in Canada have decided to live for a year without a mobile, the internet or cable television

26-year-old Blair McMillian from Guelph, his wife and two children have given up all modern day technology and are living back in 1986 - the year Blair was born.

It's after he couldn't get his 5-year-old son to play outside as he wanted to sit indoors playing video games.

The family have already found it strange without a phone saying at times they find themselves checking their pockets to see if their phones are ringing then realise they haven't got one.
4th September

Designers in South Korea have come up with an electric car that can park itself and folds nearly in half freeing up space in crowded cities.

The quirky two-seater called the Armadillo T is named after the animal whose shell it resembles and goes a maximum speed of 37 miles an hour.

The You Tube video showing how it works has already been viewed over three quarters of a million times.
3rd September
A 64-year-old woman in America has become the first person to swim 110 miles from Florida to Cuba.

It took Diana Nyad 53 hours on her 5th attempt and it's the longest ocean swim ever without a shark cage.

Nyad had been trying to achieve the crossing for 35 years.

and after completing the challenge she said "you are never too old to chase your dreams."
2nd September
Two students near Boston in America are getting frustrated that people waste up to 50 hours a week getting distracted by Facebook and Twitter every day at work.

That they have designed a keyboard rest on their computer that sends an electric shock to remind them to get back to work.

Robert Morris and Dan McDuff who are both studying at the Massachusetts Institute of Technology say it's not dangerous they just want to jog people's memory's if they get distracted searching lots of different pages.
30th August
A cat in Los Angeles has made it into The Guinness Book of Records for have the longest fur ever.

Colonel Meow has fur that is nine inches long and it takes both his owners anne and eric to brush him.

The two-year-old has become an internet sensation with over 2 million viewers to his you tube channel and social networking sites.
29th August
A new range of bedding shaped like your favourite bread product has been launched in Japan.

The bread-bed range is currently taking the countnry by storm with everything from a pillow which look like a slice of toast to a croissant sleeping bag on offer.

You could also snuggle up inside an omelette wrap which opens out into a flat blanket, or nestle inside a big open cushion version of a glazed doughnut. Each one will set you back around £110.
28th August
Dozens of competitors gathered in Lancashire over the weekend for the annual World Gravy Wrestling Championships.

Cheered on by 1,500 spectators they took part in two minute long bouts, slopping around in a giant paddling pool filled with hundreds of litres of gravy.

Wrestlers are scored on their moves, presentation, audience applause and any fancy dress costume. All competitors are then hosed down afterwards by firefighters!
27th August
A brewery based in LA has come up with a new guacamole flavoured beer.

They mixed avocado, lime, crushed red pepper and garlic with the traditional malt and hops before letting the flavours infuse in the barrel for a while.

Just 15 barrels of the ale have been made with those who've tried it saying it as a "subtle" flavour and a creamy finish.


23rd August
A bizarre, unidentified sea creature with horns has washed up on a beach in Spain leaving marine biologists mystified.

The 13ft long thing was spotted dead in the shallows by a woman at Villaricos.

Tests are now being carried out to find out what exactly it is although most of the carcas has had to be buried because it was giving off such a stink.


22nd August

A pair of British nine-years-olds have become the world's youngest formation wingwalkers.

Cousins Rose Powell and Flame Brewer took off strapped to two of their grandather's vintage biplanes over Gloucestershire flying only yards apart and reaching speeds of up to 100mph.

They're the third generation of their families to wingwalk and took part to raise money for a fund set up for an ill friend.

The girls describe it as really fun, really windy and just being on a scary funfair ride.



21st August

A council in London's got rid of its real- life receptionist in favour of a hologram who will greet visitors to the town hall.

Virtual assistant Shanice - who's described as "always very friendly" - will appear to sit behind a desk at Brent Council but she'll really be an image projected on to a screen

She'll be trained to answer a limited number of questions and point people in the right direction to register births and deaths or apply for a marriage licence.
20th August
A message in a bottle thrown into the sea by a 12-year-old in 1963 has been found fifty years later just a quarter of a mile down the coast.

Schoolboy Dennis Komsa wrote a note on a piece of paper, put it in a glass jar and threw it into the Atlantic Ocean at New Jersey as part of a science experiment. He also included a five cent piece so whoever found it, could write back to him.

Then in November last year.. a man found it among debris following Hurricane Sandy and managed to track down 61-year-old Dennis and return it to him!


19th August
A Spanish grandmother who hit the headlines last year after her botched amateur restoration job on an 83-year-old painting of Jesus at her local church, is having the last laugh.

One critic described her attmepts as a "crayon sketch of a very hairy monkey" but her handy work has now drawn more than 40 thousand visitors with the image appearing on everything from t-shirs to wine labels.

An exhibition of 24 of her other paintings has also just opened in her home town.


16th August
A zoo in central China's apologised after trying to pass off a dog as a lion.

Vsitiors to the attraction in the east of the country were left baffled when they spotted the Tibetan mastiff barking in the enclosure makred with a sign for an African lion.

Elsewhere another dog was posing as a wolf and a fox was masquerading as a leopard. While keepers had put two sea cucumbers in a snake enclosure in the reptile house.

Managers say they're doing their best in tough economic times.


15th August

Plane passengers in Japan can now buy a foam pillow that looks like a lady's lap to give them some comfort from the stresses of travelling.

The pillows have gone on sale at Duty Free in two international airprots in the country and are designed to replicate the sensation a child would have resting their head on their mother's lap.

They're described as "soft and elastic to the touch" and are clothed in a red or black polyester skirt.


14th August
Researchers reckon left-handed people are more affected by fear than right handed people.

They got a group of lefties to watch 8 minutes of footage from the Silence of the Lambs and then asked them to recall information from the clip.

They did the same with a groop of right handed subjects.

And found the left handers had more trouble remembering and made more errors as they talked about what they'd seen than the right handers.



13th August
A record attempt to get the most dogs to "stay" in one place has failed after 34 of them get bored and wandered off for a walkies.

The challenge in Leicestershire was organised by the Kennel Club which needed more than 627 pooches to sit or lie quietly for two minutes in order to enter the record books

Only 601 managed to last the time. The others were too distracted sniffing fellow dogs and searching for something to eat.
9th August
A designer has created a 12 course banquet in a can.

Chris Godfrey says he came up with the idea of the "All in One" because he wanted to give the working man or woman the chance dine to like royalty without the washing up.

Among the courses in the can are...

-A selection of local cheeses with sourdough bread
-Ricotta ravioli
-Halibut poached in truffle butter
-Rib eye steak
and a custard filled pastry for desert topped off with a hazelnut latte


8th August
The world's First Twitter Hotel has opened in Majorca.

Guests at the SolwaveHouse hotel in Magaluf are encouraged to intereact with staff and other tourists via text based messages of up to 140 characters.

There's a special hashtag for pretty much everything.. and two Twitter concierges are always on hand to answer tweeted requests for things like room service, food and drink by the pool and the mini bar to be restocked.

Rooms and even drinks are also twitter themed.



7th August
An Australian man has built a mouse sized skate park in his backgarden to help teach his pet mice to ride skateboards.

Shane Wilmot starts when they're very young, pulling them around on skateboards with a string attached to get them used to the sensation.

He then tries them out on small ramps before progressing to steeper ones and jumps.

Shane says they're built to skate and surf because their centre of gravity is so low and when they do fall off they want to get straight back on board.



6th August
A Spanish town is bringing new meaning to the idea of environmentally friendly "green" buses

A specially adapted eco-friendly single decker has gone into service in Girona complete with a garden planted on top.

Condensation from the vehicle's aid conditioning system is used to keep the lawn and shrubs green and lush. They but it can also be watered manually.

Its designed to try to clean up the air and absorb harmful Co2 emissions. The people behind it are in talks with a bus company to adapt a fleet of vehicles.
5th August
A robot which talks and mirrors human emotions has been sent to the International Space Station to stop astronauts feeling lonely.

Kirobo, who's 34cm tall and weighs about a kilogram, is the first talking robot to be launched into space.

He's been programmed by a team of Japanese designers - to remember and recognise the face of astronaut Koichi Wakata who's due to join the team later in the year and will act as a companion for him.



2nd August
A rather bold, brown bear has been caught on CCTV stealing an entire bin of leftover food from outside the back door of a restaurant in Colorado.

The six foot tall bear is seen first checking the scene is clear, and then heading straight past the recycling and to the large wheeled bin full of leftovers.

He then get up onto his hindlegs and pulls it 50 feet into the carpark before flipping the container on to its side to get to the scraps

The bear apparently enjoyed the food so much he returned for another helping the next morning.
1st August
A new bar in Germany's proving a huge hit with locals and it's all down to the charm of its bartender Carl, a humanoid robot who mixes drinks and makes small talk with customers.

The Robots Bar and Lounge in Ilmenau opened last month - with Carl behind the bar and enough room in front of it for 9 drinkers.

He pours out measures of spirits and adds them to cocktail shakers ready to mixed and wears a belt with sensors to make sure he doesn't bump into anything.

Owners say his conversation is a little limited at the moment but he's a very good listener.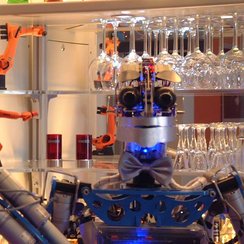 31st July
A couple hiking in remote mountains in Canada think they've captured the legendary Bigfoot on camera..

They were taking photos of the scenery in Mission in British Columbia when they spotted a strange ape-like creature close to a tree in the distance.

A 27 second video clip they then filmed shows the giant, gangly figure covered in dark hair and walking across a forest hilltop before disappearing out of sight.

The footage has had more than 260,000 hits since being uploaded on YouTube


30th July
A couple of fast food fans have held their wedding reception at McDonald's after going on a string of dates to the Golden Arches

Steven Asher and Emily Marshal arrived at the restaurant in Bristol in a stretch limo, before dining on burgers, nuggets and milkshakes with their 33 guests in a roped-off area.

Managers did give the couple a bottle of champagne, but they weren't allowed to open it until after they'd left.

The couple say it was the perfect venue.. because they wanted to make their big day as memorable as possible.
29th July
A bride and groom from Essex have spent £8,000making sure their four dogs could be page boys and bridesmaids at their wedding.

The yorkshire terriers - named Larry, Lola, Lolly and Lulu wore bow ties, ribbons and dresses matching the bridal party's clothes.

They escorted bride Louise Harris down the aisle before watching the ceremony sat on the laps of other bridesmaids.

At the reception they had their own top table, dog-food cake - and play area in case the day got a bit much.
26th July

A Spanish coastal town has won a coveted Guinness world record after smashing the record for the most people skinny dipping at the same time.

729 nude swimmers gathered on the beach in the town of Vera before taking the plunge together earlier in the week.

One of them told reporters there were so many of them you would have stood out if you were clothed.

Local tourism bosses are now planning to promote the resort as a destination for naturists.
25th July
Police in Germany were left stunned after pulling over a convertible car which had a swimming pool inside and three men wearing just their swimming trunks.

The roofless BMW which was full of water and had wooden boards and fake plastic flowers bordering the swimming area - was spotted careering around the town of Eibenstock at the weekend.

The back of the vehicle had been hollowed out, sealed and waterproofed it and then filled with water.

Police arrested the driver on suspicion of drink driving - they're still trying to work out if driving a car filled with water is an offence.
24th July

If your eyes get a bit tired and itchy after a day of staring at a computer screen or your smartphone then maybe you need "an eyeball massager".

A company in Taiwan says sales of its invention - the OSIM uCrown pro Sales have shot up 30% there in the last year.

It's effectively a pair of goggles with lots of noddules inside it which vibrate your eyes and massage your temples while soothing music is played.

Its makers say it can also reduce dark circles and bags.



23rd July

A machine that turns your sweat into drinking water has been created by a team of engineers in Sweden.

It works by extracting perspiration from clothing - first by spinning and squeezing the garments to get every last drop of liquid from them, then heating and exposing the liquid to ultra violet light.

I'ts then put through a series of filters to remove salt, bacteria and any remaining textile fibres before it can be drunk.
22nd July
Police in China have employed a crack team of crime-fighting geese to help them maintain law and order

The gaggle are being sent into rural areas of XingJiang province instead of police dogs.

Officials say the birds are known for being extremely vigilant, and have excellent hearing. They're also fearless when it comes attacking any strangers entering someone's home or business and apparently that makes them great crime deterrants.



19th July
A Danish woman has taken to the skies for her first ever sky dive... at the grand old age of 90,,

Else Bak and her toyboy husband Asger who's 80 were strapped to instructors before jumping from a plane 13,000 feet up.

The experience was a gift from their son - the couple described wonderful and absolutely lovely with Else asking if you could do it again!


18th July
An artist in Los Angeles has hit upon a bizarre painting technique involving house flies which regurgitate paint.

John Knuth harvests hundreds of thousands of the flies from maggots, he then feeds them a mixture of sugar, water and watercolour pigments and puts them in a small space where the only surface they can land on is a canvas.

Flies apparently digest externally so constantly regurgitate what they've eaten. After a few weeks the canvas has been turned into a painting covered in tiny colourful specs of fly vomit!
17th July

When it comes to weird superhuman-style talents Jemal Tkeshelashvilli has to be at the top of the list.

The 23-year-old from Georgia holds the record for the most hot water bottles blown up and burst with his nose in one minute managing to explode three of them in that time.

During his record attempt he also blew up a hot water bottle with a man sitting on it.

Apparently it's all to do with his strong abdominal muscles which push out the air really fast.. creating enormous pressue.


16th July
A Danish lego fan has used 93,000 of the tiny toy bricks to build the word's longest toy train circuit...

Henrik Ludvigsen spent £50,000 and 3,000 hours planning his creation...

It then took 80 buildings more than 6 hours to piece together the 2.5 mile long circuit which takes a toy train more than three hours to go all the way round.

Hernik has been a big fan of lego since he was a boy - his personal collection of bricks and pieces is worth £125,000.




15th July

A beauty salon in Tokyo is offering a slimey beauty treatment for women who'll try anything to look good.

It involves placing snails on your face.. then allowing them to crawl across your cheeks, chin and forehead removing dead skin, clearing pores and moisturising as they go.

Snail slime is claimed to have an anti-ageing effect on human skin - the snail facial is part of 60 minute treatment which will cost you £161.


12th July
A cruise ship, which doesn't sail anywhere and is actually bolted to the top of a cliff has become one of South Korea's top tourst attractions.

Perfect for people who get sea sick or can't afford a real luxury cruise, the Sun Cruise Hotel has 211 rooms, a nightclub, a sea water pool, netted golf range and two restaurants.

Bird sounds and the noise of waves crashing against the deck are also played over loudspeakers to make guests feel like they really are on the open seas.

A room will cost you about £70 a night
11th July
Wanna-be-astronauts who don't quite meet Nasa's high recruitment standards could soon opt to take a daytrip to earth's outer limits in a modified hot air balloon.

A Spanish company says it's hoping to have the service up and running in two years time.. with a ticket costing a mere £95,000.

Up to six people will be able to fly in a capsule tethered to a high tech balloon which will float into near-space allowing them to see the stars and the sun at the same time and get panoramic views of earth.
10th July
It seems the humble rhubarb is more powerful than we ever could have imagined.

A woman discovered just how powerful after leavng a jar of rhubarb chutney in her fridge for five days. She was woken one morning by a loud explosion and found her fridge door had been blown off, a chunk had been knocked from the opposite wall and the roof had also temporarily come off.

It turns out the rhubarb had femented in the jar, causing a build up of gas which then exploded.
9th July
A struggling artist hoping to catch people's attention with his work, has hit the headlines for all the wrong reasons after unwittingly using rare comics create his latest sculpture.
Andrew Vickers found the comics in a skip and decided to make a papier mache model. But only when it was handed to a local exhibition did he realise the six comics were first editions with one of them worth £10,000.

It would apparently have been cheaper to make the sculpture out of Italian marble.


8th July
A woman has married a 600 year old stone bridge in France in front of 14 guests and with the blessing of the local mayor.

Australian artist Jodi Rose - who has traveled the world recording the vibrations in bridgge cables and using them to make experimental music - says this Le Pont du Diable bridge was her favourite of all those she visited.

She wore a custom bridal gown and veil for the symbolic ceremony saying the bridge was everything she could desire in a husband "sturdy, trustworthy, sensual, kind and handsome".
5th July
A new superhero has emerged in Whitstable on a mission to to help women park their cars.

Parallel Parking Man - who wears a cape, swimming goggles and underpants over his trousers - says all damsels in driving distress need to do is call his name and he'll rush to their aid.

The mysterious figure - who's also apparently available for hill starts and three point turns - came to attention after an online video of him went viral.
4th July
If you've always wanted some Superman style super powers then scientists in Switzerland have brought that dream a step closer to reality.

They've invented a pair of contact lenses that give the wearer the power to zoom in on objects in the distance...

When worn with modified 3D glasses they switch from normal vision to being able to magnify details by nearly three times.
3rd July
Commuters in Tokyo had to wade through a street full of soapy foam on their way to work one morning this week

The covering of fluffy white bubbles - which at first glance looked like snow - appeared after a local office worker decided to pour 40 litres of soap powder down the sink.

By the time it had got from his 13th floor office to the ground floor it was seriously foamy... and came oozing out of the sewers below.
Police and firefighters had to work through the night to clear it all up.
2nd July
A man has gone to great lengths to avoid having to wear headphones to listen to music.

American Rich Lee has had small magnets implanted directly into his ears which, when combined with a coil worn around his neck, vibrate and make a sound.

He can plugs his phone into a tiny amplifier connected to the coil and that allows him to hear the music.

He hopes to hook it up to GPS so it can give him directions as he is walking around.




1st July
A woman suffering with a cold sore in the middle of the night in New Zealand ended up accidentally sticking her lips together after the tube of cream she reached for turned out to be superglue.

When the 64 year old realised the mistake she called for an ambulance but could only grunt, mumble and tap the phone to give her responses.

She was eventually taken to hospital when doctors used paraffin oil to ease her mouth open again.


28th June
If you really love your car how about treating it to the world's most expensive car wash
A company in Scotland's offering the £100,000 Ultimate Shine wash which uses special Carnaudba wax which comes from leaves of palm trees grown only in Brazil and costs £65,000 alone.
Washers say they'll fly out to any location in the world - and will work on the car for as long as it takes (sometimes up a few months) until it's 100% perfect.
27th June
Guests at one B&B in the Lake District not only get breakfast, towels and those little shampoo bottles in their rooms, they also get a free llama thrown in as well.

For £40 a night visitors to the Llama's Pyjamas guest house can relax in their rooms with the animals or take their tea and toast with them in the mornings.

The managers - who own 18 llamas - say they're very relaxing creatures and put you at ease and will cuddle and kiss you if you let them.
26th June
Scientists say the colour and weight of the cutlery you use to eat your meal or snack can have a major influence on what you think of it.

To prove their theory a team at Oxford University tucked into a lot of yoghurt with different coloured plastic spoons.

They found eating white yoghurt with a white spoon made it seem more dense and expensive than a pink variety. But the pink yoghurt was deemed more luxurious when both types were eaten with a black spoon. While a blue spoon made the pink one taste much saltier than the white.
25th June
A limited edition fur coat has gone on sale made entirely of male chest hair.

It took designers up to 200 hours to weave together more than a million strands of the hair and will set you back £2,499.

It's been designed by a drinks company who say it represents a protest against the "manning down" of British men, typified by clean-shaven chests and emasculating fashion.
24th June
Scientists reckon plants can do complex mathematics.

Every night while we sleep they're apparently making a series of calculations to work out how much food they need to keep them going until morning when they can use the sun's energy again.

Mechanisms in their leaves tot-up the amount of starch available and an internal clock - similar to our body clock - helps estimate the length of time until dawn. Using these sums they can then adjust how quickly they consume starch.


21st June

A French woman in her 50s has been arrested after trying to sit an English exam in place of her 19 year old daughter.

The woman turned up to the test in Paris.. wearing heavy make-up, low cut jeans, Converse boots.. and carrying her daughter Laetitia's identity papers.

She was found out.. around two hours into the three hour baccalaureate and police were called in.

The woman say she wanted to make sure her daughter got the best result.
20th June
Something called "extreme shampooing" could be about to become the newest craze to sweep the UK,

It has been started by a 25-year-old called Jim Chapman who's been getting his hair washed in the most bizarre locations and strangest ways.

Already, he's shampooed at the top of Ben Nevis, dunked his head in the Thames while on a speeding power boat, and lathered up under the 31m high Hardraw Force, Britain's highest, unbroken waterfall in the Yorkshire Dales.

Jim's also soaped up and rinsed using a fireman's hose which is ten times stronger than the average shower.
19th June
A £47,000 luxury holiday for dogs has been launched by a company in Bristol.

Canine guests at the Paw Seasons holiday resort will get two weeks of pampering and activities as part of the package, including an aromatherapy body massage, a pedicure, a reiki masterclass and a surfing lesson.

They will also be treated to a designer outfit and a custom made doghouse which is a replica of their owner's home.
18th June
If you struggle to get up in the morning then a new alarm clock in America could spur you into action.

A novice inventor's created a clock linked up to a USB paper shredder which shreds your money - one note at a time - if you don't stop the ringing in time.

The clock gives you a 10 second warning with a loud beeper, before the shredder kicks into action, destroying anything resting on top.
17th June
If you're worried your guinea pig is a bit of a softie and needs some extra protection to take on the dangers of the modern world then why not invest in a guinea-pig sized suit of amour.

A handmade chainmail suit and tiny steel helmet have been put up for sale on eBay by the owner of a a guinea pig called Lucky who recently passed away. All money raised will go to a guinea pig rescue charity.

Click here to see the listing
14th June
A new app for smartphone users in Venezuela is helping people there track down toilet paper.

It has been in short supply in the South American country in recent months with price controls brought in by the government being blamed for the problems.

Now 12,000 people have downloaded an app called Supply Me which uses crowdsourcing technology to let users know which supermarkets still have stocks.



13th June
A woman from Seattle in the States is going to try to live on just sunshine, water and tea for the next 4 to 6months.

Navenna Shine will abstain from food of any kind as part of her experiment inspired by a group of obscure Yoga practitioners who for thousands of years have claimed the ability to live on light.

Shine says she hopes her body can be trained to live through the hardship and she'll give it a good try


12th June
A shed modelled on the HMS Victory is one of the finalists in the 2013 Shed of the year competition.

The shed - complete with a top deck, portholes, figurehead and a flag pole is one of 8 sheds on the shortlist, whittled down from nearly 2000 entries.

It'll be competing against outhouses including a replica Tardis and an eco-shed with a grass roof for the overall accolade next month.


11th June
A mechanic in Switzerland has come up with an idea to help stop burglars from breaking into homes when people go away on holidays by parking a fake police car on the drive.

Andras Birrer's came up with the idea after leaving one near his home in Lucerne.

He says the idea has been so popular he now has a whole fleet of replica police cars he rents out.


10th June
A man in America once terrified of public speaking has been trying to break the world record for talking non stop.

Alex Cequea from Iowa has just finished a 34 hour speech talking about his life and family.

He was allowed to take five minute breaks every hour over the last day and a half.

Now the Guinness World Records are verifying the video which could break the old record by four hours.


6th June
A world record in America has been broken involving the longest domino book chain.

2.131 hardback books were stacked side by side around Seattle Library.

It took 27 people 7 hours and the record was finally broken on the 5th attempt.
Click Here to see a video of the record attempt.
5th June
Office workers have gathered in Copenhagen in Denmank for the annual Danish Office Chair Championship 2013.

The race sees competitors hurtling down a hill, while perched on top of an office chair, as they battle to cross the finish line first.

They wear crash helmets and knee and elbow pads to protect themsevlves from falls, bumps and scrapes.
4th June
In a previous weird news we told you about the Scottish village of Dull which was being unofficially twinned with a town called Boring in the US. They've even got plans for an officiall Boring and Dull day in August.

Now a place called Bland, in Australia also wants to get in on the act and create a trinity of tedium with Dull and Boring in a bid to raise its profile.

Other towns and areas which also called be watching with interest include Monotony Valley in Nevada, Tedious Creek in Maryland and the Polish town of Draby.


3rd June
A new cafe in Germany is charging people dependent on how much time they spend there, rather than what they order

The Slow Time cafe in Wiesbaden offers free tea, coffee and biscuits - customers are also allowed to bring in their own food and drink.

But when they're ready to move on they have to pay for their time. The first 30 mintues is 2euros and then it's 3euros per hour after that.

There are plenty of clocks at the cafe but they are all set differently to try to make people forget and relax.


31st May
An American teenager's built his own one-man submarine, which is capable of diving more than 30 feet into the water..

Justin Beckerman, 18, made the 9ft sub in just five months using a drain pipe, 2,000 foot of wire and a plexiglass dome.

It comes with a communication radio, super bright light so he can see where his going, an in-built breathing system and back up power source.
30th May
Two armed robbers were caught by police in the US after staff at the fast food restaurant they were raiding hid their getaway car.

The pair demanded cash from the till at the takeaway but while they were distracted, a worker slipped out the back door and found an empty car, with keys in the ignition and engine still running,

He jumped in and drove it round the corner out of sight, completely confusing the two robbers who then had to make a run for it to escape, only to be arrested shortly afterwards.


29th May
A petition has been launched on a government website calling on ministers to fund development of hover boards - the floating skateboards Marty McFly uses in Back to the Future.

The petition reads "the date in the film is fast approaching and we're an embarrassing million miles away from introducing the hoverboard to everyday life". It says extra money's needed so the hoverboard can be put into widespread use across the globe by October 21st 2015 - the date in the film.

If it reaches 100,000 signatures it'll be considered for a debate in the Commons.


28th May
An artist from New York is offering to sell all 27 inches of his long hair to the highest bidder, and he says they can choose how, when and where it's cut.

He describes his hair as "wavy, very thick and Jet Back in colour, the way a raven shines in the moonlight"

The seller says it's never been dyed, permed, or chemically altered, he doesn't used straighteners, a hair dryer or any styling products and he shampoos and conditions it 3 times a week.
24th May
A tiger has needed surgery to help remove a furball he couldn't cough up because it was the size of a basketball.

The 18-year-old big cat called Ty had been off his food for almost two weeks before vets in Florida realised what was wrong.

The hairball weighed 1.8kg. Ty is said to be fine now and making a full recovery
Click here to see the pictures


23rd May
If you want to get rid of those wrinkles but don't fancy plastic surgery or botox injections then the Facewaver Exercise Mmask could be for you.

The Japanese invention is made of pink stretchy material which wraps tightly around your face and sucks in your cheeks, chin and neck.

According to its makers, five minutes of daily wear while pulling all sorts of bizarre facial expressions increases blood circulation to the face, and smooths out any wrinkles, lines and sags.

22nd May
A bird called Little John is vying for the title of World's Biggest Cockerel.

The giant chicken - which lives in the grounds of Mountfitchet Castle in Essex - stands at an impressive 66 centimetres or 26 inches tall and is twice the size of regular chickens.

His owner Jeremy Goldsmith says his size might be down to the popcorn, crisps and sandwiches he's regularly fed by visitors at the castle. Little John - who is a year old - is expected to keep on growing until he turns two.
21st May
A man has broken a world record by riding a ferris wheel for two days straight.

Clinton Shepherd was allowed one five minute break each hour as part of his challenge and managed to set the new best time of 48 hours, 8 minutes and 25 seconds.

He stayed awake throughout the time by playing videogames and watching James Bond and Batman movies.
20th May
The people who run the underground in Prague are doing their bit to help the city's singletons by creating a "love train".

Under new plans there'll be designated sections in trains where passengers looking for a partner can meet, flirt and possibly find love.

Train companies hope to launch the idea at the end of the year - they're currently deciding which carriages would be more suitable for dating, how many to have and what kind of signs to put up.


17th May
A Brazillian woman has named all her children - all nine daughters and six sons - Walter, after her husband.

It started with a deal made between the couple when she fell pregnant with their first child that she should name it after him, regardless of whether it was boy or girl.

It turned up to be a girl who they called Walterlucia Maria.

Since then they've had another 14 children and followed on with the trend. The girls have been given names including Walterlivia, Walterlenia and Walterlonia while the boys are all simply Walter.


16th May
Witches have been banned from flying on their broomsticks above 150 metres in Swaziland.

Anyone caught hovering above that limit faces arrest.. and a fine of £35,000. There are no penalties for witches wanting to flying below that altitude, though.

Witchcraft is taken seriously in the African country where many people believe in the power of black magic.
15th May
A New York police officer who climbed a tree to rescue a stranded cat ended up getting stuck up there himself.

The officer who'd climbed 30ft up a tree outside a primary school to get to the feline - was hit by a sudden spell of vertigo and had to make his own emergency call.

The fire brigade arrived with a ladder to get him and the cat safely down again, cheered on by a large group of local school kids.
14th May
A 4 year old boy has been elected Mayor of a small town in Minnesota.

Every year the 22 people who live in Dorset pick a name out of a hat.. and whoever it is becomes mayor for a year.

This year it was 4 year old Bobbie Tufts whose interests include playing, dancing, singing and his girlfriend Sophia.

Mayor Tufts also likes chatting to his townspeople, guiding them safety across the road and giving out advice about the right bait to use for fishing.
13th May
With bizarre local laws costing British tourists thousands of pounds in fines every year when they go abroad, a website has put together a handy list of the some of the things you can't do overseas that are perfectly legal back here.

They include wearing high heels in Greece, chewing gum in Singapore, and feeding the pigeons at St Mark's Square in Venice.

You'll also get into trouble if you step on money while in Thailand or run out of fuel in Germany.


10th May
Scratch and sniff cards have prompted the evacuation of loads of building in a US city centre.

People were ordered out of their homes and offices in downtown Great Falls in Montana when a strong smell of rotten egs and gas started wafting through the air.

But the potent whiff turned out to be coming from several boxes of old scratch n' sniff cards that had been chucked into nearby bins.

The smell was released as the bins were being emptied into rubbish trucks.
9th May
In just two weeks, more than 78,000 people from 120 countries have applied for a chance to live on Mars as part of a new reality tv project.

The idea is to set up a human settlement on the red planet by 2023 with every part of the mission filmed.

There will be a two year selection process, ending with an audience vote. Successful candidates will then have to train for another seven years before leaving earth forever as part of the Mars One project.
8th May
A gardener has spent three years and 20 thousand pounds building Britain's biggest water-powered cuckoo clock in his back garden.

The 25ft wooden clock is the size of a house and comes complete with a 3ft wooden cuckoo which pops out every hour and chimes with the help of a pipe organ and music box.

It is powered using water from a passing stream and a complex system of cantilevers, counterweights and pulleys.


7th May
Great news for busy or lazy men - a shirt that doesn't need to be washed or ironed for up to 100 days has been invented by a company in the US.

It is made using a wool mix which the makers say is far more efficient at absorbing moisture than other fabrics.
During testing, 15 people around the world wore the shirts while doing everything from backpacking in the Andes to dancing in sweaty nightclubs. The company says it doesn't expect anyone to actually wear their shirt 100 days in a row but they could if they wanted to.
3rd May
Staff at an estate agents in New York are being offered a pay rise if they get a tattoo of the company's green and black logo.

So far 40 workers at Rapid Realty have shown their commitment to the firm by getting an inking costing around £200.

In return, they have been handed a 15% increase in their wages for their troubles. Their boss has yet to get one of the tattoos himself.
2nd May
A man who is addicted to eating insects says he's consumed more than 5,000 species including cockroaches, grasshoppers and scorpions.

David Gracer from Rhode Island in the States says he started the habit about 11 years ago and his addiction has grown.

He now keeps a constant stock of insects at home.. with more than 12,000 in a basement freezer and reckons it's not that different to eating things like crabs, shrimp and lobster.
1st May

A professional jigsaw maker - who had spent 35 days putting together the world's biggest ever hand-cut wood puzzle could only watch as the whole thing collapsed around him.

It happened just a day after Dave Evans had put the final segment in place in the 6m by 2.5metre jigsaw which was resting on a huge tilted frame designed to keep it safely up.

He now has just a week to put it back together before the puzzle - of images from the Queen's diamond jubilee - is due to go on display at Sandringham.
30th April
A cruise ship company has insured its fleet of boats against damage by the Loch Ness Monster.

Jacobite Cruises which is based in the Scottish Highlands - will get a six figure payout if Nessie chooses to appear and target one of its three boats on the loch.

The owners say they don't know what the odds of it actually happening are, but they'd look really silly if it did and they weren't covered.



29th April
A huge houseboat which looks just like Captain Jack Sparrows pirate ship has gone up for sale in the States with a pricetag of £50,000.

The 50 ft boat holds up to 30 people and is described by its owner as "an awesome party boat".

It's got two bedrooms, two bathrooms and looks just like a Hollywood set complete with tattered sails, skull and crossbone flags and all the pirate-type accessories you'd need for a life on the high seas.
26th April
The world's first vending machine for dogs has been unveiled in London, and it makes hungry canines work for their treat selection.

Instead of putting some loose change in a slot, dogs are challenged to pull a bone attached a lever, which sends a tennis ball out of the top of the machine.

They then have to fetch the ball and return it to the machine before they're rewarded.

The machine also makes noises like a cat's meow to attract customers.


25th April
A woman's told how she came face to face with an escaped tiger in the toilets at a circus in the States.

Jenna Krehbiel found the animal when she took her three year old daughter to the bathrooms during the show in Kansas.

It's thought the animal had wandered off after its part of the performance, and ended up in the ladies loos.

Ms Krehbiel says she tried to stay calm and just walked back out. Her daughter wanted to know if the tiger had washed its hand.
24th April
24th April
Researchers reckon the way you sneeze can reveal your real personality.

A study in America's found outgoing people generally have loud, dramatic sneezes, while those who are shy try to hold back and end up with a stifled squeak.

The experts say the bone structure of the face and shape of the nose play a role in the different sneezing styles and that people often develop a sneezing technique in their youth which stays the same into adulthood.
23rd April
The ultimate bird house has been created by a Swedish designer.. complete with infinity dipping pool, gym and a mezzanine master bedroom.
The two storey home also has an open-plan living area with sofa and coffee table, and a kitchen complete with sink and in-built bird feeder. There is garden furniture and a lawn outside, as well as a predator alarm for peace of mind.
The designers hope it will inspire people to build their own.
22nd April
Where you stand in a lift reflects your social standing according to new research.

A study of dozens of people on dozens of lift rides found more senior men positioned themselves towards the back, younger men tended to plant themselves in the middle while women of all ages stood at the front, closest to the door.

Women would also avoid looking in the mirror or making eye contact with other users unless they were only travelling with other women.

Apparently decisions on where to stand are based on a micro social hierarchy established within seconds of entering the lift.
19th April
A beauty pageant with a difference has taken place in Mexico where eight pensioners have been battling out to be named Queen of the Elderly.

To enter, women must be between 65 and 75 and be prepared to wear a tiara and posh frock and be interviewed on stage about their lives and what being a senior citizen means in the modern day. There's no swim suit section.

The winner gets a a handbag and some jewellery.


18th April
A new beer's been created by a brewery in Japan using elephant dung.

It's made by grinding down coffee beans that have passed through the animal's digestive system to make what it describes as a "chocolate stout".

Testers say it has a combination of bitter, sweet and mellow, and the first batch sold out in minutes.

Its makers were inspired by the success of a brand of coffee which is made in the same way.
17th April

Hundreds of players from around the globe have gathered in Florida for the Quidditch World Cup...

The game from the Harry Potter books.. which uses broomsticks and balls called quaffles was transferred into reality around eight years ago and now has thousands of devotees around the world.

It's been developed into a mash up of lacrosse, rugby and dodge ball, with players waddling around on brooksticks as they battle to score by throwing the quaffles through ringed hoops.


16th April
The world's only cat theatre has been given a grand reopening in Moscow after a year of reonvation work.

Hundreds turned out to watch the first performance with a cast of dozens of felines taking to the stage for a series of acts and displays in time with music.

Cats performers were seen walking tightropes, climbing poles, spinning balls, and clambering along moving objects.

The theatre was founded by a father and son in 1990 who say the animals enjoy it and have each found a place in the show with their individual talents.
15th April
A town in Louisiana is to ban saggy trousers.

Residents of Terrebone Parish voted 8-1 in favour of outlawing the baggy clothing.

First-time ban-breakers will be fined $50 or around £33, while repeat offenders will be charged $100 and could face 16 hours of community service.

Parish council leaders say there's nothing positive about saggy pants, and they just want boys and girls to "look decent".
12th April
An Iranian scientist claims he's invented a machine which can predict what'll happen in the next five to eight years of you life.

Ali Razeghi says his Time Traveling Machine brings the future to you, taking readings from your touch and then giving a print out of its predictions.

The 27-year-old says the invention works by using a set of complex algorithims and has a 98 percent accuracy rate.




11th April
A woman - disappointed by her boyfriend's attempt at a marriage proposal - is now offering lessons to other men in how to pop the question properly.

34 year old Sam Sheppard from Monmothshire turned down her boyfriends because she says it felt more like he was asking her out for pizza.

Now she's set up a business offering advice.. with a number of packages available ranging in price from £10 for a few ideas to £10,000 where absolutely everything is organised for you.
10th April
A team of Japanese students have invented a coat designed to make single men feel like they're being cuddled by a girlfriend.

It even whispers sweet nothings in your ear for the full effect.

The Girlfriend Coat - which looks fairly normal from the outside has a special belt which creates the sensation that the wearer is being hugged from behind. It also comes with wired up headphones which play recordings of a female voice saying stock phrases like "Sorry I'm late".



9th April
A man has flown four miles over a shark infested ocean using only helium balloons!

Matt Silver-Vallance took around an hour to cross from South Africa's Robben Island to Cape Town wearing a wetsuit and a harness attached to 160 balloons.

He also had weighted bags which he could drop to adjust his height, as well as an air gun and spear. He ended up having to burst about 35 balloons after getting a bit too close to the water for comfort.


8th April

International Pillow Fight Day has been marked in London with an almighty pillow fight in Trafalgar Square.

Thousands of people armed with feather filled pillows battled it out with complete strangers at the famous landmarkwith the scene being echoed in more than 100 cities around the world.

Organisers says the day is a way to get people outsideand to relieve stress.

The only rules are that you're not allowed to hit anyone with a camera or who's not armed with a pillow.
5th April
After yesterday's cow's milk vodka, today weird news is all about Pizza-flavoured beer!

A couple in the US created the taste-combination while entering local home brew competitions, mixing tomatoes, basil, oregano and garlic during the brewing process.

It has been a massive success in the states and now it's going on sale around the world.

The creators say Mamma Mia Pizza beer tastes like normal beer when it's on your tongue but the aftertaste is of pizza toppings.



4th April
A British farmer has created the world's first vodka made from cow's milk.

Jason Barber spent three years trying to perfect the tipple with the help of the 250 cows on his farm in Dorset.

It's made by separating the whey and then fermenting it using yeast to covert the sugar into alcohol. That's then distilled and blended to produce his signature Black Cow vodka.
Food critics describe it as smooth with a distinct creamy character.
3rd April
A 5 star hotel on Australia's Gold Coast is offering a 350 pound per night luxury package for DOGS...

As part of the deal guests at the Palazzo Versace hotel get a "superior pet room" for two people and a dog. It features a designer futon dog bed, Versace crystal food and water bowls, gourmet pet food on room service, and a dedicated concierge available for walkies.

The hotel says it came up with the idea after requests from rich guests who didn't want to put their dogs in kennels while they holidayed.
2nd April
TVs which allow you to SMELL the programme you're watching are a step closer to your living room thanks to work by a team at Tokyo university.

At an international conference recently they unveiled their new "smelling screen" which makes odours waft out from a spot on the screen showing the corresponding object.

It works by feeding smells from gel pellets into four air streams which are blown across the displays surface.


28th March
Three friends are celebrating a lottery win in the States after a message in a fortune cookie predicted they'd scoop the jackpot.

James Scoles from Alaska spotted the message "you're going to win the lottery" when he opened the cookie on March 15th.

Less than 24 hours he and two mates found out they were a million dollars, or £660,000 richer.
James says he plans to spend his win on honey baked ham, a smoke turnkey and some good barbecue sauce.
27th March

You've heard of sing a long cinema screenings of films like Sound of Music and Mama Mia.

Now a swimming pool in Yorkshire is getting in on the act, with a swim-alongs showing of various water based films including Jaws!.

A large screen's been installed at one end of the pool at Bramley Baths and viewers can either watch while bobbing around in the water.. or from the front row balcony seats in the dry.

Speakers, meanwhile, stream the sound track both under and over the water.


26th March
Solving puzzles or tricky anagrams is the best way to get rid of a song which gets stuck in your head and plays on loop.

Researchers reckon taxing your brain with mental challenges can force the "internal jukebox" in your mind out of working memory and allow it to be filled with less annoying thoughts instead.

But the puzzle can't be too hard or too easy. They also found that Lady Gaga songs were most likely to get stuck in people's heads.


25th March
An award celebrating the the Oddest Book Title of the Year has been won by a book offering advice on how to protect chickens from goblins.

Goblinproofing One's Chicken Coop got 38 percent of the online votes. It came just ahead of another title called - How Tea Cosies Changed the World which took 31 percent.

Other titles in the running including Lofts of North America: Pigeon Lofts and a guidebook called "How To Sharpen Pencils".
22nd March
A train driver in the West Midlands has earned cheers from his passengers after broadcasting a message on his tannoy asking a woman on her mobile in first class in the middle of the train to "stop shouting as it's annoying the other passengers"

West Midlands trains says such messages are 'not part of any company policy.'

but the announcement has now won praise from The National Campaign For Courtesy.


20th March
The first hotel made from cake is to open in London this week, but only for one night.

Visitors to the three floor, eight room hotel in Soho will be invited to tuck into windows and walls clad with 2,000 macaroons, a rug made out of meringues, windowsills built entirely from fudge and even vanilla sponge cushions.

More than 14 artists spent 3,000 hours baking and decorating the hotel using 600 kilos of sugar.
=== ===
19th March
A woman from Serbia has baffled doctors and scientists with a condition that means she sees everything upside down.

Bojana Danilovic, 28, suffers from spatial orientation phenomenon which means although her eyes take in images the right way round, her brain flips them over to process them.

Bojana turns her books, newspapers and even her TV and computer screen upside down to use them. When she was a baby, she even first started crawling and walking backwards.

=== ===
18th March
A full sized replica of the house of commons has gone up for auction on eBay.

The 460sqm set comes with the famous green leather benches, wood paneled walls and marble effect floors and recently featured in The Iron Lady starring Meryl Streep.

It has been put up for sale by a film studio which is having a clear out. Bidding started at 99p and has reached £120,000 with a week to go.
=== ===
15th March

A man in Estonia has returned a library Book 69 years late saying the delay was due to second world war bombing.

The borrower who is in his 80s took the book out from Tallin Central library in March 1944 and finally got round to giving it back last week.

Fortunately the library decided to waive the fine at the current 15 pence a day charged in Kent, he would have to pay nearly £4000, although Kent does cap its charges at a maximum of £6.
=== ===


14th March
Two schoolgirls from Indonesia have won a science prize for inventing an environmentally friendly air freshener made from cow manure.

They collected dung from a local farm, left it to ferment for three days, then drained the water off and mixed that with coconut water before distilling the mixture.

The end result is a liquid air freshener with a natural aroma of herbs from digested cow food.
=== ===
13th March
Former US President George W Bush is now doodling dogs!
He has painted pictures of about 50 canines including his late pet Barney
His art teacher Ms Flood is full of praise for him and his work and says he's now moved onto painting more complicated landscapes
She believes "He's going to go down in the history books as a great artist."
=== ===
12th March
A piglet called Zorro is making a name for himself in New Zealand - thanks to his surfing skills.

The two-month-old's owner Matthew Bell has been taking him out on the waves since he was just three weeks old and says he's "phenomenal swimmer".
Mr Bell plans to continue searching for the perfect wave with his surfing mate until Zorro is too big for the board.
He says: "We'll keep surfing until he gets to a size where he's unmanageable and, yes, see what happens after that."
=== ===
11th March

150 competitors have been taking part in one of the world's most extreme and coldest marathons, in Siberia.

The Lake Baikal Ice marathon sees them running from shore to shore across the ice of the planet's largest and deepest fresh water lake in the middle of the Siberian winter.

It starts just after sunrise at 9am when temperatures are at minus 12c.

The winner completed the course in a time of 3 hours and 7 minutes.
=== ===
7th March
Tickets have gone on sale for a flight which will give passengers a close up view of a rare comet which is expected to pass Earth this year.

German company Eclipse Travel is selling 88 seats on the plane which will zig zag above the clouds - at 11 thousand metres - for two hours as the comet travels through the solar system 100 million miles from Earth.

A seat will set you back between £300 and £440.


=== ===
6th March
A zoo in China had to be evacuated on Monday morning when two lions went for a wander because a keeper cleaning their enclosure forgot to lock the gate.

Riot police were called in to help recapture the pair who were eventually returned to their enclosure four hours after their escape.

Neither they nor anyone else was hurt. Officials have apologised saying you can't blame the lions for taking advantage of human error.


=== ===
5th March
A man dressed as Batman has astonished police officers by bringing a suspected criminal into a police station for questioning before vanishing into the night.

The man - dressed as the 1960s version of the caped crusader with full mask, gloves and boots was caught on CCTV at Bradford police station calmly waiting to talk to the duty officer on reception and then leaving.

The superhero has caused a bit of a stir in the area with everyone from the local council leader to the Bishop of Bradford speculating about his identity.
=== ===
4th March

It turns out an alligator spotted in the Thames a week ago was probably a prop from a Bond film.

We told you on Monday that a retired university lecturer had seen the 4ft long creature bobbing around in the river near his home in Reading.

But now it's thought it was probably just a lifelike dummy which was used in 007 movie Live and Let Die. The prop is usually stored on an island in the river but could have been washed into the water during heavy rains.


=== ===
1st March

A Chinese woman has hit the weird news headlines for not cutting her hair in 11 years.

Cen Yingyuan - who is 5ft tall - has grown her hair to an astonishing 6ft 7in long.

It takes more than an hour to wash and a day and a half to completely dry. Cen says she's addicted to her own hair and saves every strand that falls out, collecting around 50g of hair a year.

=== ===
28th February
Organisers of a small town carnival in Essex very nearly pulled off a major showbiz coup after asking Beyonce to appear and perform at their procession in August.

The team at the Maldon Carnival Association got a response from her people saying she would hopefully attend as she would be in the UK on tour anyway.

Meetings were set up and emails were exchanged, but all the excitement was dashed when her reps asked for a £50,000 appearance fee, and decided the carnival probably wasn't likely to attract the crowds Beyonce is used to.
=== ===
27th February
In previous weird news stories we've told you about Japan's cat cafe's where people can go to chill out and de-stress as they stroke and play with cats.

Well now the UK's is getting its very own version. Entrepreneur Lauren Pears is looking for prospective sites in London and aiming to have the cat cafe up and running by May.

She says she's found 10 to 15 cats from a local animal rescue centre who'll staff the establishment, and has already had more than 300 applications for the human jobs.

=== ===
26th February
When the people behind the advertising slogan "Should have gone to Specsavers" came up with the line, this probably wasn't what they had in mind.
Over the weekend photos of a car which had crashed into a branch of the famous opticians in Sevenoaks were doing the rounds on Twitter. They showed the Ford Fiesta completely blocking the pavement to pedestrians and the shop front window cracked.
No one was hurt in the accident..
=== ===
25th February
A shopping centre in Australia has banned screaming toddlers from the building.
The Dee Why Grand mall, north of Sydney, took action after complaints about children becoming too loud near the centre's play area, and running amok in the food court.

Now a sign has gone up saying "parents need to be considerate of other customers... and screaming children will not be tolerated.."

Bosses say people deserve the "quiet enjoyment of their cup of tea".
=== ===
22nd February
People living along the River Thames are on crocodile-watch after a retired university lecturer claimed to have seen one in the water.

The 63 year old says he was cycling along the bank at Reading when he spotted what he thought was a bough of a tree with four stubby branches.

When he got closer he says he realised it was a 4ft long crocodile.

He came forward with the sighting after a shop worker claimed to have seen a fully grown swan suddenly pulled down into the water as if by a powerful reptile.
=== ===
21st February
A gallery in Austria showing an exhibition of paintings of male nudes, has opened its doors to hundreds of nudist art loves.

It staged the special viewing for the naturists who had travelled from all over Europe after a request for a private tour.

The museum says no ordinary members of the public were allowed in all the staff working that day had volunteered, and that the only people wearing clothes were the museum guides and security guards.
=== ===
20th February
A car powered by coffee has set a new speed record.

The specially modified Ford pick-up truck reached speeds of more than 65.5miles an hour during the attempt at an airfield in Great Manchester. That's a world best for this type of vehicle.

It uses coffee chaff pellets - which are the waste product from coffee production. They're heated until they break down into gas which is then cooled before being used to drive the engine.

=== ===
19th February
The perfect desk for people who like to daydream or even nap at their desk has been invented.

It's topped with a soft, waterproof, foam mattress allowing the user to just slump forward and comfortably rest their head.

It also has a small wooden block cut into it so you've got somewhere to put a coffee mug or notepad.

Its designer says it's a "practical and comfortable stress reliever" and he hopes it'll promote a laid back casual attitude towards work and life.


=== ===
18th February

A couple in Australia have had a Valentine's Day wedding at their local branch of Ikea.

Chad Martin and Lynne Klanbida won a competition to walk down the aisle at the store with every part of their big day featuring products from the chain including crockery and glasses, lighting, decorations and even meatballs.

The couple say they wanted to get married there because they both love the shop so much.

The hour long ceremony was attended by 80 of their family and friends and 80 other IKEA fans who got an invite via Facebook!
=== ===
15th February
Boffins at Oxford University have unveiled a car that drives itself.

It has small built-in cameras and lasers which help it remember roads and routes, and which also look out for obstacles such as other cars, cyclists and pedestrians.

The driver can put the car in auto pilot using an iPad, and take back control at a touch of the brake pedal.

It is thought the technology could be installed in mainstream cars within 15 years.
=== ===
14th February
A passionate couple in Thailand have broken the record for the longest continuous kiss smooching for more than 45 hours.

The kissing competition began on Tuesday, with 14 pairs attempting to be go the distance without sitting or sleeping. They were allowed eat, drink and use the lavatory as long they didn't break apart.

The couple who lasted the longest won a £1,000 pound diamond ring and £2,000 pounds in cash.

=== ===
13th February
Train passengers are used to being delayed because of snow or leaves on the line, but disruption because a signalman got stuck in a toilet has to be a first.

Just that happened at a station in Worcester recently when the lock on an outside loo jammed while the signalman was answering the call of nature.

The driver of a passing train couldn't make radio contact with him so was forced to make an unscheduled stop at the station.

The signalman's cries for help were eventually heard and he was freed by colleagues using a crowbar.
=== ===
12th February
A new insurance policy is pledging to protect against disasterous dates..

As part of the policy - aimed at women - you could get a pay out if your date shows a lack of chivalry, shoddy conversation, terrible personal hygiene or an iffy fashion sense.

It was launched after a survey of the worst places women had been taken on first dates.. included the doctor's surgery, a cattle market and a sewage pumping station.

=== ===
11th February
Six people have spent 48 hours each sitting on 8ft tall blocks of ice.. as part of a bizarre annual competition in Sweden.

The four men and two women had to endure temperatures of minus 28c to win a share of the £2,000 prize money.

They were only allowed to come down for 10 minutes toilet breaks every other hour and said the worst part wasn't the cold, it was the boredom.
=== ===
7th February

Herne Bay has been sold on auction site Ebay for the bargain price of £1.04.

It was listed by a seller who described the seaside town as "in desperate need of TLC" and "in danger of sinking into its imaginary flood plain".

The ad also said that with a little investment the town could become good again and that potential buyers were "bidding to buy a dream".
=== ===
6th February
A Scottish tourist has fallen victim to a thief with a difference while on holiday in New Zealand.

Peter Leach had the equivalent of £700 in cash stolen... by a parrot.

The native mountian parrot - called a Kea - even took the wallet the money was in after flying into the man's camper van through an open window while he was distracted looking at the view.

Peter says when he reported the theft to the authorities the police officer laughed at him.
=== ===
5th February

A three day sporting event in India has been sorting the men from the boys with a serious of gruelling challenges including carrying bricks with your teeth and cow chariot racing.

Other games featured at India's annual Rural Olympics include being run over by farm machinery, pulling ploughs and tractors with your teeth or hair and horseback acrobatics.

There's also a 100 metre race for the over 80s and special events for camels, dogs and other animals.

The event is a celebration of rural life and has taken place every year since 1933.
=== ===
4th February
A man has spent £1,800 building a kennel for his beloved dog which is an exact replica of his own house.

The new home built for Wellington, a two-year-old St Bernard, is one third the size of his owner's property, and has been decked out carpets, working lights, insulated walls, glossed skirting boards and a slate roof.

It even has a gravel drive, patio stepping stones and ceramic statues.

=== ===
1st February
Dogs caught short while out for a walk with their owners in one part of China can now spend a penny in a public bathroom specifically for pets.

Around 80 of the pet-only, open-air restrooms have already been built in the Luohu District with plans for hundreds more.

They measure around 10 square feet in size , are filled with sand, and are placed near parks and alongside pavements and walkways.

It's part of new laws to help clean up the streets.
=== ===
31st January

Ahead of Valentine's day, couples in Japan has been marking "Love Your Wife Day" where men express their love very, very publicly.

It involves them taking to the stage somewhere like a car park where they are surrounded by strangers, and then shouting about their adoration for their partners.

Their other halfs are said to be generally reduced to tear and hysterics..

Organisers reportedly started the event to help men easily express their feelings amid the modest Japanese culture.
=== ===
30th January
A new record has been set for the most people popping bubble wrap at the same time.

Three-hundred-and-thirty-six students at a high school in New Jersey took part in the record attempt which involved them popping as much as possible in the space of two minutes.

When the time was up they managed to get through 8,000 square feet of the stuff.

And here's a weird fact; bubble wrap was was invented in 1960 when it was actually intended to a kind of textured wallpaper.
=== ===
29th January
A CD featuring 30 minutes of silence recorded inside a church in East Sussex has gone on sale.

During the half hour recording all you can hear are the faint sounds of squeaking pews, soft footsteps and distant traffic.

All the money raised from sales of the CD is going towards repairs for the 800 year old St Peter's Church and it's not only been snapped up by local parisioners but also people in countries including Germany, Austria and Ghana.
=== ===
28th January
An igloo has put been up for sale on a property search website.

Described as a "detached house" in an upmarket areas of Bristol, estate agents say it features vaulted ceilings, open plan living space, and a minmalist and refreshingly cool atmosphere.

The house also has "further scope to extend (subject to necessary consents and weather conditions".

According to the listing the price has been frozen for January and availability is limited.

=== ===
25th January
An expensive French Restaurant in Japan has revealed a rather bizarre key ingredient in its expensive dishes.

Chefs at the Ne Quittez Pas eatery use DIRT to give them their menu a little something extra.

The black soil - which comes from a place called Kanuma - has been tested for safety and is featured in everything from soup, sauces and salad dressings, to risotto and ice cream.

The food is said to have only a slight hint earthiness.
=== ===
24th January
If your pet cats are a big part of your life then how about a new home for you with a host of specially designed features for them?

A Japanese company's created a flat which has elevated platforms and steps up to wooden beams for felines to climb on, tunnels linking each room and cat flaps in every door.

Everything's coated in a cat-proof substance to stop scratches and make it easy to clean.

There is even a litter box installed next to the toilet although there is a partition between them for a little privacy.
=== ===
23rd January

If you're fed up with the freezing conditions at the moment spare a thought for the 500 residents of the Russian village of Oymyakon which is the coldest permanently inhabited place in the world.

The average temperature for January is minus 50c, but the coldest temperature ever recorded there was minus 71.2c.

Villagers face daily challenges like glasses freezing to people's faces, batteries losing power, and pen ink icing over as they write. They also have to leave cars running all day in case they won't re-start.
=== ===
22nd January
A gang of robbers in Colombia who set out to burgle a local shop in the middle of the night had to ditch every thing they'd stolen after their get-away donkey alerted police.

They had managed to grab booze, oil and lots of food from the store but the donkey, which was also stolen, started hee-hawing rather loudly as they were loading the goods on to him.

They ran off and the donkey was taken into custody for 12 hours til his owner was notified and came to collect him.
=== ===
21st January
The world's largest television has been unveiled in Austria and it's so big it has to be kept outside!

The C Seed 201 - made by the people who make Porsche sports cars - has a 16ft wide screen, is made up more than 725,000 LEDs and displays 4.4 trillion colours,

It is hidden away when switched off but rises from the ground at the touch of button, with seven unfolding panels creating the 201 inch screen.

If you fancy one - it will set you back £414,000.
=== ===
18th January
A nursery in China has staged marriage ceremonies for more than 100 toddlers as part of a lesson on relationships.
The little brides and grooms - aged three to six - were dressed up in wedding dresses and smart suits, before having to swap rings and make vows in front of a registrar.
Staff at the nursery say the ceremony was pretty similar to the real thing, but shorter and not legally binding.
=== ===
17th January
A list of some of the more bizarre gifts given to the Queen in her Diamond Jubilee year has been unveiled.

During 2012, she became the owner of a baby llama and adopted an elephant.

Her majesty also received a knitted tea cosy of her and her corgis, a lego sculpture of Tower Bridge, a crown-shaped dog bed, a microsculpture of the Coronation Crown on a pin head as well as 19 teatowels, 9 jigsaws and 78 portraits of her herself.
=== ===
16th January
A pensioner who set out to drive just 38 miles to meet a friend at her local train station in Brussels, ended up on an 1,800 mile detour across Europe when her satnav went wrong.

67 year old Sabine Moreau followed the instructions for two days, only stopping to put more petrol in her car.

She crossed through the French, German, Austrian and Slovenian borders before arriving at her satnav's final, chosen destination in Croatia she says, only then did she realise something was wrong.

=== ===
15th January
A college is launching a new course which will see tutors teach students how to get through the auditions for TV talent shows.

The 17 week X Factor Preparation course in County Durham is believed to be the first of its kind and will end just in time for the next round of auditions for the show.

Tutors say singing, performance and confidence coaching are all on the syllabus and there are no formal entry requirements.. other than "enthusiasm and motivation".
=== ===
14th January
Tens of thousands of people around the world have got on a train without their trousers on as part of the 13th annual No Pants Day.

It first started on the subway in New York in 2002 and has since growing into a global phenomenon with more than 100 people taking part on the London Underground alone yesterday, despite freezing temperatures.

The idea is to get on a train, in your underpants, pretend you don't know the other people involved, and keep as straight a face as possible while doing it.

=== ===
11th January
A cat called Merlin is hoping he's done enough to secure a place in the record books as the world's loudest cat.
When he's in full flow the moggy from Devon can purr at a rather loud 100 decibels. That's as noisy as a classroom of chattering children, a London underground train, or a hand drill.
The average cat's purr registers at a mere 25dB.
=== ===
10th January
A gorilla at a zoo in Germany's gone to new heights in a bid to impress the ladies.

Keepers strung a rope from trees in Kidogo's enclosure for him to hang from, but instead he decided to use it as a highwire to walk across just like a circus act.

They reckon he might be copying human visitors at the zoo by walking upright, and wants to show who's boss by doing it better than they can.

Kidogo's party trick has seen him accepted as a mate by both of the females in his enclosure.
=== ===
9th January
A holiday firm is looking for a professional Waterslide Tester to try out its water parks around the world.

The job ad promises the successful candidate something a bit more exciting than your regular 9 to 5, where "no two days are the same" and where the idea of "going to work" means putting on your speedos or swimming cossie and hurtling down waterslides.

Whoever gets the job will have to travel around Europe and North Africa for six months and rate slides on their adrenaline factor, biggest splash and rideability.

=== ===

8th January

A cat has been detained at a Brazilian jail after trying to get in through the gates with a mobile phone and various tools taped to its body.

The feline attracted the attention of prison guards because of its frequent visits to and from the jail. It was found to be carrying drill bits, tiny saws, files, a memory card, batteries and a phone and charger.

Officials told the local paper said they don't know which prisoner the haul was destined for, as "the cat doesn't speak".

=== ===

7th January

The latest wacky invention to come out of Japan is a tail for humans which wags when the wearer's in a good mood.

Called the "Tailly" it attaches to a belt with sensors which measures the wearer's pulse rate. When the wearers heart beat quickens the tail wags faster.

Inventor Shota Ishiwatari says he's convinced it'll be a hit and has set up a website to try to raise enough funding for it to go into production.

=== ===

-->-->

An Australian man's built a mouse sized skate park in his backgarden... to help teach his pet mice to ride skateboards.

Shane Wilmot starts when they're very young... pulling them around on skateboards with a string attached.. to get them used to the sensation.

He then tries them out on small ramps before progressing to steeper ones with jumps.

Shane says mice are built to skate and surf because their centre of gravity is so low... and when they do fall off they want to get straight back on board.

-->-->-->-->-->-->

Dozens of competitors gathered in Lancashire over the weekend for the annual World Gravy Wrestling Championships.

Cheered on by 15 hundred spectators they took part in 2minute long bouts... slopping around in a giant paddling pool filled with hundreds of litres of gravy..

Wrestlers are scored on their moves, presentation, audience applause and any fancy dress costume...

All competitors are hosed down afterwards by firefighters!

-->-->-->-->