Hallow-Mean For James & Becky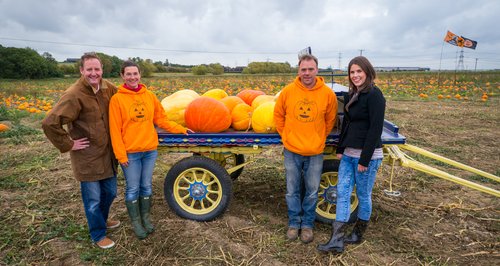 Throughout the week, find out what Hallow-Mean tasks the producers have set James & Becky!
For Monday, it was 'The Pumpkin Push'! Find out how James & Becky got on with the challenge and who had to do the horrible forfeit afterwards!
On Tuesday, Becky lost at Ghost Balloon Busters! Watch her cringey forfeit below...
For the midweek challenge, it was Apple Bobbing In Bobbing! No need to explain this one, the clue's in the title! Find out the results and who had to do the forfeit here!
For Day 4's challenge it involved some doughnuts and baked beans…have a watch of this and we guarantee it's something you've never seen before! (and if you have, well we're just a little concerned!)
The fifth and final Hallow-Mean challenge was The Mummy Wrap – Becky lost it, so had to be wrapped up in bandages and spend a couple of hours as a Mummy!