James & Becky's Singagram!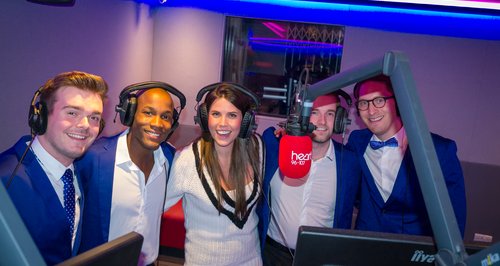 Keep up to date with James & Becky's Singagram week!
We've found a great four part male vocal harmony group called The 4 Tune Tellers!
Imagine them singing for you or your loved one... This week on Heart Breakfast, that's exactly what's happening!
For Monday, Sharon told us she wanted a song for her husband, Barry Freelove. They met online and have been married 5 years, apparently Barry thinks he's a bit of a comedian and often tells Sharon she's a lucky lady! Here's what The 4 Tune Tellers came up with!
On Tuesday, we spoke to Elaine from Chatham who wanted a James & Becky singagram for her daughter Sara who's had to go to hospital. It's also Sara's birthday, and as she's not that tall, when the doctor told her she couldn't wear high heels, this was a bit of a dilemma for her! Anyway, take it away, The 4 Tune Tellers!
For Wednesday, Nigel from Tonbridge got in touch! He wanted a song for his wife Neelum on their 8th wedding anniversary, and he mentioned that as well as her love of wine, Nigel sometimes struggles to get a word in edgeways! Listen to the song The 4 Tune Tellers came up with for Neelum here!
For the penultimate Singagram of the week, Dawn got in touch and wanted a song sung for her daughter Zoe! Zoe's keeping Dawn up at night moaning about her wisdom teeth coming through... And she's also guilty of clicking her toes! EW!!
For The 4 Tune Tellers final visit to the Heart Kent studios, they made it a good one! Listen to the song they wrote and sung for Carol's husband, Ronnie. After they were supposed to get Married in New York, Carol decided that she actually wanted to get married in South Africa, in Krugar National Park, in a jeep instead!