10 Chic And Feminine Tattoos That Will Make You Want To Get Inked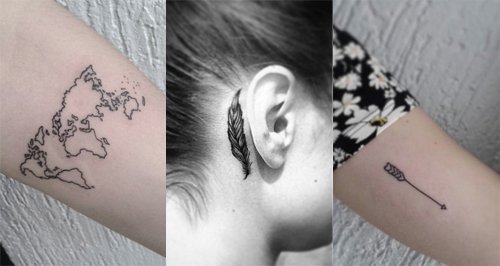 Who says tattoos have to cover your whole arm from wrist to shoulder? Before you get that giant design across your back, take a look at these lovely feminine and delicate tattoo designs. We promise you won't regret these chic inkings the morning after the night before…
Sailor tats and full sleeves can be awesome, but more often that not we're inspired by smaller, more delicate options from the wonderful world of Instagram.
If you've ever fancied getting inked but don't like the thought of committing to something a little on the larger side, we reckon these chic designs are a great place to start.
Let us know your favourites in the comments box below…
Flirty Feathers
Behind the ear is a great place to experiment with your first tattoo, especially if your nearest and dearest would flip at the idea of you getting inked! Tattoos should be personal, so keep it discreet like peemtattoo on Instagram.
For Music Fans
You could have a tiny heart or star tattooed onto your wrist, but we love this music-note-meets-heartbeat option from tiny_tasteful_tattoos on Instagram. It's still small enough to not draw heaps of attention, but it's interesting enough to start a conversation - a win-win situation.
Delicate Florals
We love this barely there floral design by ajmcguiretattoos. Keeping designs in shades of black, white and grey is a great way to ensure subtelty. What do you think?
For World Travellers
Minimal line drawing designs are big news in the world of tattoos right now, which is why we love this map of the world tat by marjanabruntattoo. The great news is that because of its simplicity, it can be as big or as small as you like and will work just as well on the crook of your elbow as the top of your thigh. Awesome, right?
Inspired By Jewellery
If you regularly wear a watch or a heirloom bracelet, this could be the tattoo for you. It is simple enough to not be outlandish, but it's also stylish with loads of options for the inner wrist design. tiny_tasteful_tattoos shows a simple infinity symbol, but this could work equally well with a bow, heart or lightning bolt design.
Interesting Arrows
Arrow designs can be as simple or as complex as you want, but we're particularly taken with this tattoo by marjanabruntattoo. The inner arm is an ideal spot for this type of long, thin design, but this would look equally great on the foot. Just picture it with some great gladiator sandals…
Clever Compass
This design by dariastahp on Instagram is absolutely gorgeous, but it would also look incredible paired back with just a few simple lines.
Sun, Moon and Stars
There's something oh so romantic about this sun and moon tattoo by charlottejonestattoo. Cleverly the colour of this tattoo is a slightly off grey, giving it a much softer and far more feminine look than jet black ink. This is definitely one of our favourites…
Pretty Planets
Give your collar bone a mini-makeover with this simple planet tattoo, as seen on reptilewings. Kick start with something simple like this and then add stars, orbiting suns and maybe even a little tiny earth…you can build your own space scene!
Anchors Away
This lovely little anchor is perfect for fingers, wrists, ankles and collar bones, and it would work equally well in bright colours. Even Kate Moss has an anchor tattoo, so if it's good enough for Mossy, it's good enough for us!