This 93-Year-Old Bride Is Asking Facebook To Help Choose A Wedding Dress
5 June 2017, 16:37 | Updated: 23 August 2018, 16:58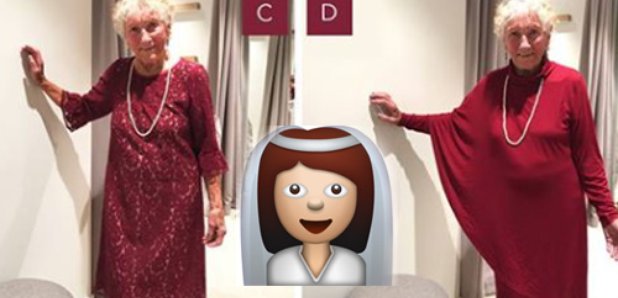 The fabulous pensioner is fast becoming the internet's favourite bride after she tried on four red options - very daring, we know!
When it comes to your special day, there's nothing more important than feeling beautiful in your wedding dress, no matter how old you are.
Just ask 93-year-old Sylvia Martin, who's becoming the internet's favourite bride to be so rapidly, it's making everyone say Pippa Middleton, who?
The fabulous pensioner went wedding shopping for her big day at Birdsnest a shop in New South Wales, where she tried on four red options - very daring, we know!
And to make sure she made the right choice, Birdsnet posted the outfits on its Facebook page and asked their followers to help her make a decision.
Eventually, Sylvia chose the lacy Sacha Drake Cipolla Drake dress, which retails at $349, which roughly works out at £200. BARGAIN!
So who is the lucky guy? Well, the sassy penisoner is getting married to her friend Frank, who lives in her retirement village and it's thought she finally accepted his offer after numerous proposals.
"Sylvia has always refused, thinking that to take a new surname would be disrespectful to her deceased husband," Birdsnest's Facebook post says.

"A year ago, Sylvia took ill and moved to Canberra to be near her family, and Frank thought all hope was lost. When Sylvia recovered, she found Frank, who was living in Adelaide, and convinced him to move to Canberra to be with her.
"Frank arrived a couple of months ago and again asked Sylvia to marry him. Sylvia had learned that you can keep your own surname when you marry, and so said yes."
Aww! This gives us all hope that you can have love and style at any age.