This Girl Text Her Prom Pic To The Wrong Number But Got The BEST Reply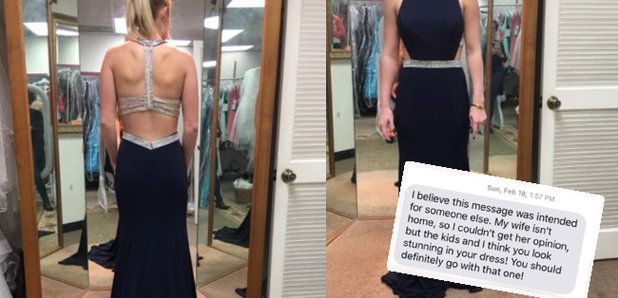 Syd didn't expect this response when she accidentally sent a photo of her trying on her prom dress to a stranger.
We've all done it; tried on a dress in a shop and text a photo to our pals for their valued opinion.
This teenager did exactly that when she was trying on prom dresses, except she didn't quite get the number right and sent the snaps to a complete stranger.
Most of the time you think you'd just get a reply, or hopefully a delivery failure but in this case her prom picture ended up on the phone of a dad of five and his reply was amazing.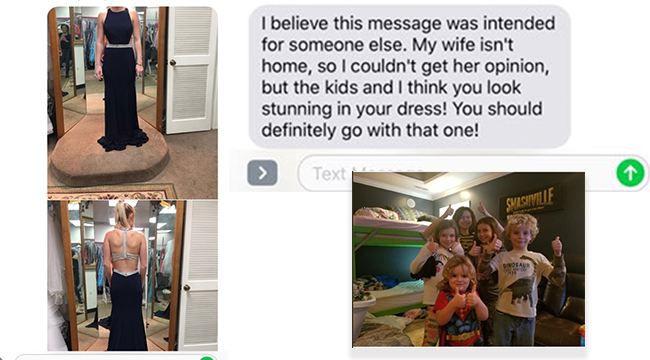 Twitter User Mandi Miller shared the story about her friend who she calls Syd and it's pretty incredible.
Rather than a grumpy 'you've got the wrong number' style reply she instead got an incredibly polite text back which read: "I believe this message was intended for someone else. My wife isn't home, so I couldn't get her opinion, but the kids and I think you look stunning in your dress. You should definitely go with that one!"
If that wasn't lovely enough he then followed it with a snap of his five children all holding their thumbs up at the camera - adorable!
Syd accidentally sent pics of her dress to the wrong number and this was their response pic.twitter.com/SWmcqSFiqh

— Mandi Miller (@bbymandi) March 8, 2018
We hope Syd bought her dress after that rave review!
The world would be a much better place if all strangers were that lovely, what a lovely guy.