Woman devastated after discovering £99 Argos '18ct gold wedding ring' is made from BRASS
3 September 2018, 14:46 | Updated: 3 September 2018, 16:50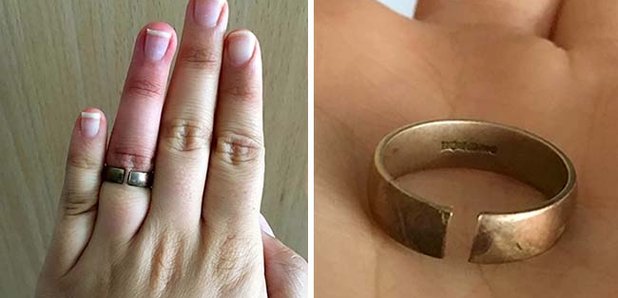 The unnamed woman had been wearing the £99 Argos ring since she got married in 2004.
A distraught wife has accused Argos of selling "fool's gold" after discovering her 18 carat wedding ring is a FAKE.
The 55-year-old, who has asked not to be named, discovered that her treasured wedding ring is "9ct gold at best" after it broke when it was taken to be resized in June.
She has been wearing the budget band, purchased in Argos' Oxford branch, since marrying her 52-year-old husband in a church in Headington in 2004.
Now she wants Argos to pay the cost of a new ring, and foot the bill for her to remarry her partner as a goodwill gesture.
The devastated woman said: "I really feel this is Argos selling fool's gold, because that's how I feel: a bit of a fool.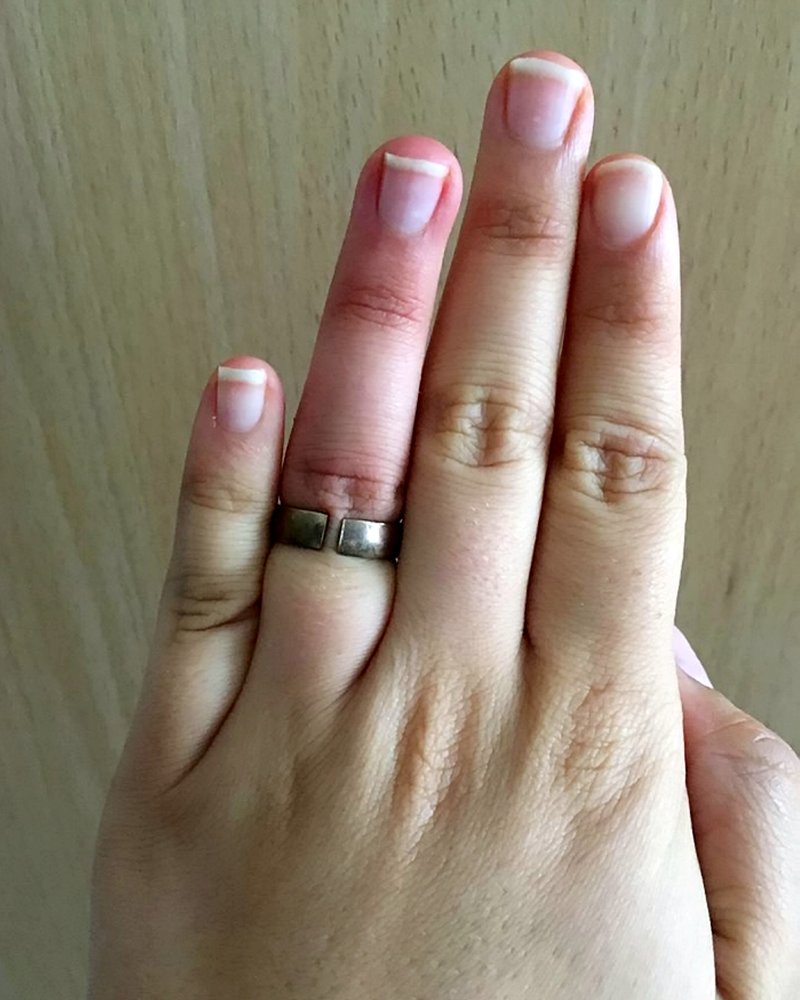 The ring snapped as it was resized (Image: SWNS)
"When they said the ring was brass I laughed - I thought they must have made a mistake.
"People might say 'it's a cheap ring, what do you expect?' but I expect it to be what it says it is. It's a reputable company.
"No matter how much you pay or where you bought it from, if it's got a UK hallmark you expect it to be what it said.
"My ring is worthless, beyond repair and not wearable. It's fool's gold, it's just a lie.
"It feels like I am missing a part of me - it's about the blessing of the ring and the significance.
"That ring would have been left to my daughter."
The couple told the Oxford Mail that the jeweller who they took the ring to for resizing was surprised when it "snapped", and sent them home while he could test the material.
He later emailed them them saying: "We tested metal and [it] appears to be brass."
In denial, they asked for a second opinion, and it was even more damning.
The next jeweller told them: "The item has been acid tested and in my opinion the metal is no better than 9ct yellow gold.
"It has been incorrectly stamped or the marks are false."
Argos previously issued a product recall in 2001 over fears gold hallmarks on their products had been illegally faked.
The woman wants Argos to buy her a new ring and pay for another wedding (Image: SWNS)
The couple added that they had been back and forth, and had had a written apology and a promise of a refund - but it's not enough.
The angry wife fumed: "This is more than just a ring. And offering £99 is taking the mick.
"I'm very disappointed with the response.
"Something on this level should be taken more seriously - it's a crime to put a stamp on the wrong quality of gold or silver."
An Argos spokesperson said: "We are investigating this with the customer."