Ashley Graham Slams 'Plus-Sized' Label Saying It Devalues NORMAL Women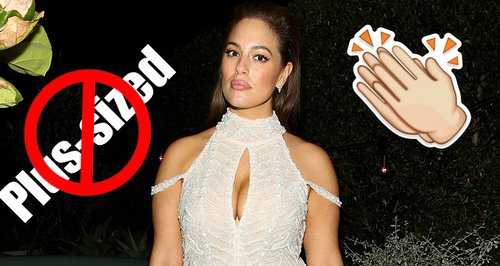 She's famous for speaking her mind, but there's one thing Ashley Graham doesn't want to hear ever again...
We love the way Ashley Graham doesn't hold back!
The famously curvaceous model, 28, has revealed she resents the label 'plus-sized' because of the way it divides women into categories.
She told British Vogue: "When we're supposed to be talking about diversity for women, it feels so divisive and purpose-defeating, giving us yet another label."
Ashley famously became Sports Illustrated magazine's first ever curvy cover girl in the spring of 2016, which has led to even more modelling jobs and even a Barbie Doll in her honour!
In her British Vogue cover interview, Ashley admits she spent her teenage years trying to be thinner and dieting. Now, she says she loves her womanly shape and would never try and lose her curves.
We couldn't agree more!
She said: "Do I sometimes wish I were thinner? God, in the old days, absolutely I did, but now I feel that to lose weight would be disloyal to myself. A lot of who I am is connected to my size, and I am so happy with who I am."
Ashley's career got off to rocky start when she was told she would only ever be a 'catalogue girl' and never a 'cover girl'.
Instead she dug her heels in, worked hard and now she's landing covers left, right and centre!
She added: "Well, I got with IMG and did five covers in a year, boom, boom, boom. See, if you have a pretty face doors will open, but your job isn't just to walk through them, it's to get invited back.
"Look, I hit the beauty jackpot, I get it, but that's not enough, you've got to have more to have longevity in this business. It's always been, 'OK, so what can I do now?'"
We love her honesty, common sense and determination. These are the traits that are going to make her successful in the long-term, not just her beautiful face and figure!
Do you think the term 'plus-sized' should be banned? Let us know below...