9 Beautiful Baby Names Inspired By The Ocean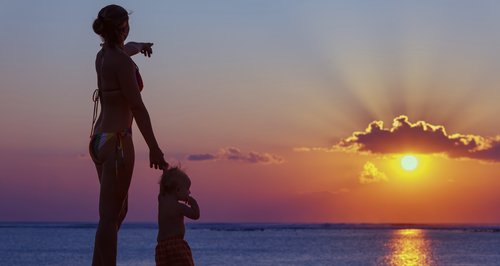 These names are magical...
Today is #WorldOceanDay and we're showing our appreciation with these adorable baby names inspired by the ocean.
If you're a parent, or a parent-to-be, who loves the sea and just happen to be looking to name your child too, then why not take your dedication that one step further and combine the two to show just how dedicated you are to the deep blue.
Ariel
This has to be our number one because, well, The Little Mermaid...
Sebastian
We promise this article isn't just about names from The Little Mermaid (even if it is our favourite Disney film) but Sebastian is a great name that will remind you of the sea. And it can be shortened to Seb or Baz.
Ocean
What name is better at reminding you of the ocean than the Ocean itself? Uttering this name out loud alone commands and audience. It's so powerful and can be used for a girl or a boy.
Coral
This beautiful name for a girl depicts nature at its best. It conjures ideas of stunning scenery and blissful holidays.
Cove
A cove is a small sheltered bay, a slice of paradise away from prying eyes. This name could easily be used for a girl or a boy. Now there's not many people out there called Cove!
Isla
This girls' names means 'island' with Scottish origins.
Brook(e)
Okay, so it's not as powerful as Ocean but it's watery connotations reminds us of the sea. It can be used for a girl or a boy and means 'a small stream'.
Storm
We've all heard of children kicking up a storm but what about a child called Storm? This powerful girl or boy's name is one you won't forget in a hurry.
Ray
Why not tribute your love of the ocean by naming your child after one of the most prevalent creatures of the sea: the sting-ray. Traditionally it's a boy's name, but spell it Rae for a girl.
Happy baby-naming!