Time Saving Hacks For Parents Getting Their Kids To School Before The Bell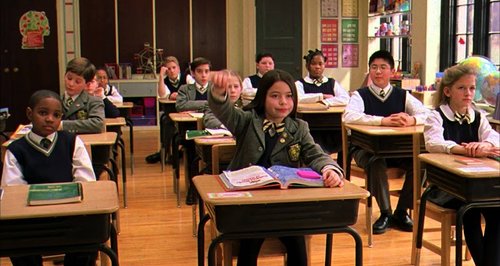 Here's a round up of some of the best hacks to make sure you and the kids make it to school on time!
It's that time of year again when the summer holidays are over and it's back to school for everyone. Whilst the kids will seem pretty down about the prospect of putting on their uniforms once again and the evenings dedicated to homework, parents may be feeling a little relived to get a bit of routine back into their lives!
However fun and laid back the past six weeks have been, it's tricky to get the family ready on time and get them back onto the school playground before the bell goes, whilst also being ready for work!
Balancing work, home-life and parenting is no easy feat, which is why over the years mums and dads alike have come up with some ace time-saving hacks to make their lives easier.
Here's a round up, put together by Vosene Kids, of some of the best hacks to make sure you and the kids make it to school on time!
Don't battle the mornings
Battling in the morning is a lose-lose situation and you'll only get stressed and end up yelling. When time is short you are much better using motivation – ten minutes of play time if they are dressed on time, a trip to the park on the way back from school, or stars or stickers collected for good behaviour and rewarded with something nice. Rewards don't have to cost a lot – write them a 'mummy cheque' for an extra story that they can cash in at the weekend.
Teach your kids to do it for themselves
Whether it's making their beds, preparing lunch boxes or washing their own hair, if they are doing it for themselves that will be one less thing for you to do. Get little ones to practise putting on their new uniform (they will need to do that after PE). Use a marker pen to put a big red spot on the inside of pull-up trousers and skirts to help them learn front from back.
Skill swapping with other parents
Trying to do it all yourself is sometimes just too much. Who else in your network of friends and family can help in exchange for doing something else? Could you swap a trip to the park with an extra child for help sewing name labels into school uniform from someone who actually likes sewing? If baking cupcakes is something you enjoy, that's great currency to leverage some school pickups out of a non-baking parent!
Dirty kids are happy kids
Don't stress childhood mess – getting grubby in the playground is great for children's development. If they are dirty, it's because they have been interacting interestingly with their environment. Leave them to it and then dunk them in the bath at the end of the day.
Less is more
Buy non-iron school shirts (newbies take note!). Pyjamas do not have to be washed every day (seriously, there are parents who really do this). A PE Kit can be worn more than once. Does it smell? No? Then it's probably wearable, especially if they are only going to get dirty again anyway...
Double up for half the effort
If you are cooking or baking and it can be used in the packed lunches than make double quantities. Put half in the fridge or freezer for another time - even sandwiches! An you can freeze mini boxes of fruit juice to double up as ice packs.
Prioritise the fun
In the frenetic back to school rush, it's easy to lose sight of what our children really need from us. Your children would probably prefer that you juggled fewer tasks and more bouncy balls. Be sure to slow down, have fun and laugh.
File everything
Newsletters, contact numbers, random letters about next year's school trip, the telephone number for the school uniform supplier for emergency PE kit orders… Keep everything to do with school in one place. Knowing where you put it is the fastest way to find something when you're in a rush!
Get technical
You don't have to be at the school gate to link up with other parents. Make the most of social media to create member-only networking groups for sharing information, arranging play dates and locating lost jumpers.
Look after yourself
Your children rely on you being healthy and well, so invest in your own wellbeing. Whether it's a gym session or a night out with friends, take time out regularly to de-frazzle and top up your resources. Remember, parenting is a marathon not a sprint.
Goodluck!