You've NOT Been Making The Most Of Baking Soda All This time!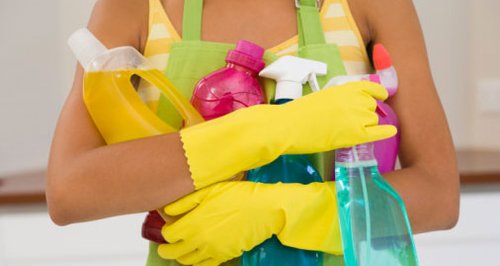 Looking gorgeous while cleaning the oven is no mean feat. If only there was a miracle product that could revolutionise your beauty routine AND make day-to-day tasks easier and cheaper. Tah Dah!
Blasting dark under eye circles
Tired of those heavy under eye bags? Can't find a cream that actually reduces puffiness and dark circles? According to YouTube beauty blogger Darshika Patel the unsuspecting pot of baking soda gathering dust in your kitchen cupboard can help.
Watch to see how it's done
Read more: Nine SERIOUSLY surprising uses for Vicks Vaporub
Just mix one teaspoon of the powder with a few drops of water and mix well until it forms a syrupy consistency. Apply this mixture to the under eye area using your fingers or the back of a spoon. Take care to avoid the delicate skin directly under your eyes. Wait for the paste to dry (approximately 10-15mins) and wipe off with a wet cloth. Repeat every evening and tah-dah, you will definitely notice an improvement. What an eye-opener!
DIY facial scrub
Love face masks but don't want to splash out on expensive products? It's time to learn the wonders of the DIY facial: mix three parts baking soda to one part water and apply to your face or body. Rub in circular motions then rinse clean. Your skin will be left smooth, clean and your pocket won't feel the pinch! Some of the most effective face masks contain this magical substance so why not cut out the middle man and get mixing.
Freshening your breath
Next up we address the horrors of halitosis. Regretting that super garlicy spag bol? Never fear, baking soda can once again come to the rescue. Step aside Listerine, just put one teaspoon of the stuff in half a glass of water and rinse. This actually neutralizes bad smells, leaving you feeling fresh and confident.
If this still isn't enough, try dipping your toothbrush with toothpaste into baking soda for an extra thorough clean.
Soothing bites and stings
Insect bite driving you crazy and your bite relief cream went out of date in 2005? Don't worry, we've all been there. Cue your new favourite product baking soda! Make a paste with water and apply onto the itchy area. Another option is to rub a bit of the substance directly onto damp skin after a shower or bath to relieve the itchiness.
Creating your own miracle shampoo
If you are fed up of paying top prices for the newest shampoo craze, maybe it's time to shake things up and embrace your inner chemist. Just mix one teaspoon of baking soda into 250ml of warm water, stir until dissolved then pour over wet hair. Voila! Homemade shampoo that will leave your hair super clean, shiny and easier to manage. John Frieda eat your heart out!
Polishing your jewellery
Are you fed up of scrubbing your favourite necklaces to try and bring back their sparkle? Don't panic, we have a solution for you:
Mix 1 cup of boiling water, 1 tablespoon of salt and 1 tablespoon of baking soda.
Line a pan with tin foil, place your jewellery at the bottom then pour your mixture ontop.
Slowly add half a cup of vinegar and prepare to be amazed.
Leave for 10-15mins then rinse and dry.
Reunited with your shiniest gems, no elbow grease required.
Cleaning anything from ovens to floors
Scrubbing the oven might win the award for being the worst household task. Never fear, baking soda is here to help. Sprinkle some into the bottom of the oven, spray with water and let it soak overnight. In the morning it will be a quick job wiping away the grime.
If it's time to get the mop out, add half a cup of the multi-purpose powder to your mop bucket for an extra thorough floor clean. Or add to a damp sponge to create a bargain furniture polish. Rub lightly and wipe with a dry cloth. Job done.
It may be a little pot but it packs a mighty punch, costs literally pennies and won't harm the environment, KAPOW!