Beauty Expert: Lisa Hoffman
Discover more about the woman behind the award winning beauty range.
An avid traveler and true beauty connoisseur, Lisa Hoffman spent years traveling the world with her high-profile actor husband, Dustin, and their six children, immersing herself in diverse cultures and discovering beauty secrets from around the globe. Throughout her travels, Lisa has uncovered the most essential skin care ingredients, all of which combine to ensure potent and high performing treatment systems.

After six years of formulation and development, Lisa launched her very own beauty line that takes skin care to new heights. Winner of numerous awards, including "Newcomer of the Year" by Women's Wear Daily in 2007, this is one beauty brand you cannot afford to miss.
Background
How did you get to where you are now/where did you train?
The spas of the world were my classroom, and I trained in my kitchen. My "training" in the kitchen lead to some unique skin formulations that inspired me to seek out one of the foremost chemists in the world. Together, along with a leading dermatologist, we created the Lisa Hoffman Beauty skincare line.

Describe a day in your life
My average day starts early because my husband is an early riser. If I have time, I'll swim for 30 minutes in the pool. Then I grab some coffee, sit down in front of my computer, and start checking emails. Then I head into the office where my staff briefs me on the state of the union. After a full day of work, I go home and have a date with my husband.

For readers who haven't experienced your line, can you recommend key hero products that they should try?
It would have to be my Vitamin A/C Serum because it combines two of the most effective anti-aging ingredients into one product. It's a water free formula that delivers effective doses of Vitamin A & C which helps firm and tone the skin whilst Retinyl Palmitate helps to reduce the appearance of fine lines and wrinkles – it's one of our best sellers.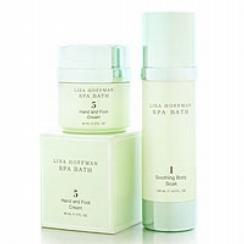 Career highlight to date?
Winning WWD (Women's Wear Daily) Newcomer of the Year award for 2007.
Inspirations
Favourite discovery?
Blackberry messenger – it's made it so easy to keep in touch with my kids who all live in different parts of the US.

Who or what inspires you?
My husband continues to inspire me after 28 years of marriage.

Daily extravagance?
Living in LA…it has to be Valet parking.

Favourite place on earth?
My house in Connecticut because it's my safe haven away from the hustle and bustle of the world.

Happiest when?
I'm surrounded by my family.
Beauty
What's in your make up bag?
The most important items in my make-up bag would be my Shu Uemura mascara and the lip moisturizer from my Spa Facial collection. I don't like to wear a lot of make up, so on most days I run out the door with just mascara and a little bit of lip gloss. I use my lip moisturizer as a gloss because it gives my lips a nice sheen while also treating them at the same time.

Favourite moisturizer?
The Day Cream SPF 15 from my line. It's lightweight, non-greasy, and gives my skin a natural glow.

Favourite treatment?
Sleeping. Beauty-wise, I really believe that getting enough sleep is one of the most important things you can do for yourself. Additionally, I can't give myself a facial (using the regimen in my spa facial packette) often enough - it's my current obsession.

Who cuts/colours your hair?
Christophe cuts my hair and Art Luna colors it – both are based in LA.

Desert island product?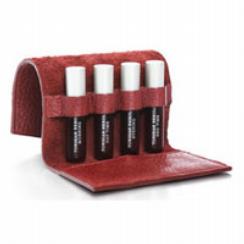 It would have to be my Vitamin A/C Serum.
Fashion
Bag
Bottega Veneta

Shoes
Christian Louboutin

Designer
Prada
Home
Where do you live?
My family and I split our time between LA and NY.

Pets?
I have 2 Labrador retrievers – Louis and Murphy.

Favourite restaurant?
Il Ristorante di Giorgio Baldi in Pacific Palisades, CA. It's a neighborhood restaurant we've been to so often it feels like home cooking.

What book are you reading?
Consider the Lobster by David Foster Wallace.
What's on your iPod?
My brother gave me an iPod filled with music from each year of my life.

Happiest when?
I'm sitting outside with a cup of coffee and a newspaper.

Find out more www.lisahoffmanskincare.com



Get more fashion and beauty content from Mimi - a make-up artist with a busy and demanding social calendar at beautyandthedirt.com.