Cosmetics Expert: Leslie Blodgett
Find out how Leslie Blodgett turned a formerly hippie bath and beauty brand to one of America's must-have makeup lines.
Advice from the Experts

Get more fashion and beauty content from Mimi - a make-up artist with a busy and demanding social calendar at beautyandthedirt.com

Leslie Blodgett

Leslie Blodgett is the CEO and wonder woman behind the transformation of Bare Escentuals.

Since joining in 1994 Leslie has changed the way that the cosmetics company interacts with its customers.

A U.S. edition of ELLE Magazine had a three-page profile called "The Cult of Personality" describing the overwhelming adulation of fans for Leslie's number one selling U.S. mineral makeup brand.

Bare Escentuals' foundations, concealers, blushes, glimmers and skin treatments have all won numerous awards from Elle, Glamour, and Teen Vogue. The brand has also been featured in InStyle, Harpers Bazaar and Cosmopolitan magazines.

Bare Escentuals can also be held accountable for leading the sustainable cosmetics revolution.

All ingredients in Bare Escentuals products are natural. Its foundation contains just 5 ingredients.

It's also hypoallergenic, allowing women who previously couldn't wear make-up revel in the non-irritating and redness-hiding wonder products.

Leslie graduated from the Fashion Institute of Technology in New York and went on to work at both Neutrogena and Max Factor.

She's went from being turned down for an Estee Lauder counter job to selling a reported $1 million worth of products in an hour on QVC.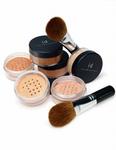 The product is simple to use with Leslie's easy-peasy instructions to just swirl, tap, and buff. The minerals easily soak into the skin, and users look like they aren't wearing any makeup at all boasting a glowing, radiant and flawless complexion. The foundation also contains SPF 15 so your skin is protected everyday.

Fans might be super eager to get up close and personal with Leslie, but she is just as excited to see them, travelling across the country on her "Swirl, Tap, Bus" with her team of makeup artists. Leslie and her team enter events to the tune of Fergie's 'Glamorous.'

She speaks to each and every fan at the events and ideas for many of the new Bare Escentuals products come from the fans.

The product line ranges from foundations and blushes to glimmers and eye shadows to liners and mascaras to lipsticks and glosses.

Bare Escentuals also sells a skin care line of primers, moisturisers, night time skin treatments, lip plumpers, eye brighteners, and blemish treatments.

Their new Rare Minerals Blemish Therapy is literally flying off the shelves. The Cosmetic Executive Women bestowed it with the 2008 Beauty Insider's choice award.

Bare Escentuals is not a budget beauty brand at £17.50 for foundation, but don't let the pricetag keep you away. This product lasts forever and the easily achieved results are like nothing you have tried before.

So strut down to Selfridges, and swirl, tap, and buff your way to what Leslie calls, 'the skin you were born with.'