This Daughter Did A Stunning Make Over On Her Mother Who Had Chemotherapy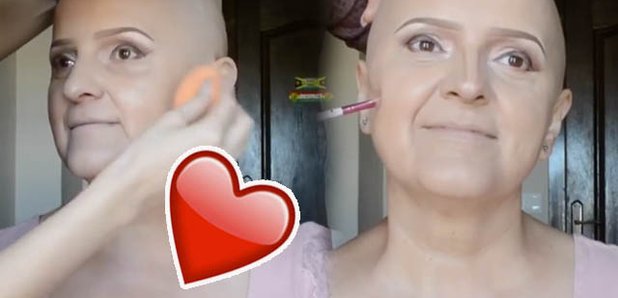 This beauty blogger did a make over on her mother who has been through chemotherapy and she looks incredible.
Nadina Iona is a beauty blogger and pretty damn good at make up.
Her Instagram is full of beautiful make up looks created by her for her 22,000 followers and its mostly full of lip tutorials with some crazy colours and creations.
But recently Nadina turned her make up talents to something different and gave her mother a stunning makeover.
However her mother has sadly been going through chemotherapy and as a result has lost her hair, eyelashes and eyebrows. Nadine created a special video showing how its possible using make up to bring these features back with a natural make up look.
She also took into consideration the products used and made sure to use make up that is suitable for sensitive skin as well as moisturisers and primers so her mother's skin did't get too dry underneath the cosmetics.
And we think you'll agree, the result is incredible...
Here are the products she used:
Eyeshadow - Urban Decay's Naked Palette
Moisturiser - Nivea Cellular anti-age cream
Foundation - Make Up Forever Foundation Palette
Highlighter - Anastasia Beverly Hills Moonchild Glow Kit
Contour - Anastasia Beverly Hills Contour Kit in Fawn
Her mother looks absolutely radiant! And Nadina truly made her mothers natural beauty shine through with the careful choice of make up.