DIY Hair Disasters: What We Think We Look Like When We Do It Ourselves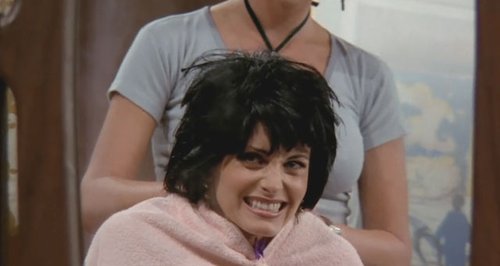 From wonky fringes to dodgy bowl cuts, we strongly advise that you don't cut your hair yourself or you could look like this...
We all look back at photos from our childhood and cringe at those dodgy haircuts that our mums snipped for us. We can't believe they did that to us, let alone let us leave the house looking like that!
But now that we're older, we're less likely to splurge on a trip to the hairdressers for our kids and instead give it a go ourselves. Without realising it, we've become our parents.
As it turns out, we're not alone. According to a poll by Vosene Kids, 84% of us have caused our children to have a DIY hair horror. And what's more, we reckon that with our totally unprofessional skills we can turn our kids into Elsa from 'Frozen', Taylor Swift, Romeo Beckham and Harper Beckham. Fat chance!
Scroll down for expert advice on how to fix that wonky fringe.
Here's a round up of what we think we'll look like compared with what we actually look like when we take matters into our own hands:
The fringe-trim
What I think I look like:
What I actually look like:
The bleach job
What I think I look like:
What I actually look like:
Even Justin Timberlake in his *NSYNC days suffered from a bad bleach job...
The pixie cut
What I think I look like:
What I actually look like:
The blow-dry
What I think I look like:
What I actually look like:
The hair bow
What I think I look like:
What I actually look like:
Here's how to fix that wonky fringe: