Easy Hair Hacks To Improve Your 'Do In Less Than A Minute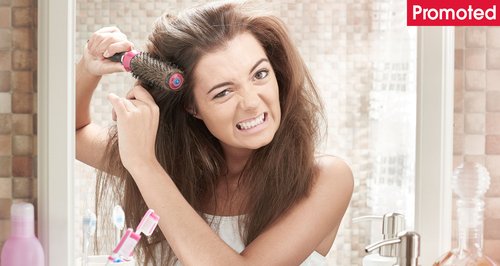 Are you a walking hair horror story? Try these hacks to transform your do and get out the door fast...

We're all for lush salon treatments and relaxing spa sessions, but sometimes you just need a quick fix before heading out the door.
We all know that the humble head of hair has the ability to make or break our confidence levels, so here's some quick fix hacks to turn a lacklustre mop into something ready to take on the world...
Swap your parting
Need a quick volume boost and a freshen-up without reaching for the heated stylers? Grab a fine tooth comb and swap the direction or depth of your natural parting - you'll hide that bit of grease build-up, add volume and people will be too busy commenting on your 'new look' to notice kinky ends. Great stuff.
Boost volume with plaits
Whether it's a full-on Heidi braid or a quick whip around plait, nothing builds volume, disguises grease and adds interest faster than the humble plait. Instead of using a brush, use your fingers to tease your hair into a simple braid, starting loosely at the roots and working tighter as you reach the ends.
Soak up grease
If you really need to use dry shampoo, apply it before you go to bed. Your natural movement over night will give the formula time to soak up all the excess oil while also reducing that tell-tale powdery white residue. If you're not a fan, snap up some of those old fashioned blotting sheets to remove oil from the roots - they work just as well on your head as they do your t-zone!
Brush under, not on top...
Instead of attacking flyaway or static prone hair by brushing down from the roots, try flipping your brush and combing outwards starting at the mid lengths and working towards the ends. This 'brushing under' technique is a great way to add natural curl and volume without spreading grease from the roots to the ends.
Spray onto a brush, not your head
If you're using product, like hairspray or styling oil, try applying it to a thick bristle brush instead of directly onto your hair. You'll be able to control the distribution of product more effectivley, preventing those sticky build-up areas while also giving your hair a quick tidy-up at the same time.
Try a leave-in conditioner
Conditioner isn't just a shower essential! Combat dry ends and flyaway frizz with a dollop of leave in conditioner, which will also act as a styling product for a curly head of hair or a finishing product for a coiffed up-do. Start with a small amount and build gradually to avoid looking greasy...
And if none of these work (or you have more important things to worry about than hair), just throw it up in a ponytail and head out the door...
Want to try a top notch leave-in conditioner before splashing out on a full sized bottle?
The brilliant new Heart Beauty Box contains a handy 50ml sized Charles Worthington Moisture Seal Hair Healer Leave-In Conditioner, which is designed to nourish and smooth your hair without making it heavy and greasy.
The Heart Beauty Box contains over £77 worth of hero products by amazing brands like REN, Garner, Nails inc. and Sanctuary, and you can get the lot for just £20 plus p&p.
Find out more about the Heart Beauty Box here
What are you waiting for? Get all of these treats just in time for the summer season by clicking here...