Nicole Scherzinger Uses Coconut Oil For This Bizarre Beauty Ritual!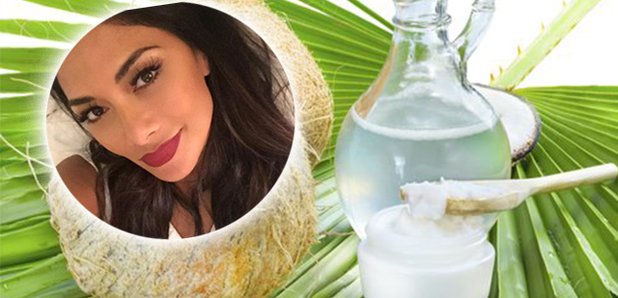 Coconut has many health and beauty benefits and the former Pussycat Doll is a fan for a reason you may not expect.
Coconut oil has been used for its health and beauty properties for centuries, especially in South East Asia, where this fruit is considered quite a wonder product.
It also has its fair share of celebrity fans with the likes of Nicole Scherzinger being a big advocate of it's natural properties. She recently revealed to New! magazine that as well as using it on her face, body and hair she uses it in a bit of a peculiar way too.
She said: ''I use coconut oil as a deodorant as well as a face and body moisturiser, and on the ends of my hair, too. Basically, I use it for everything.''
Due to its high saturated fat content, coconut oil had quite a bad rep for a while, as experts advised users to limit its consumption as they thought it could potentially cause cardiovascular diseases. However saturated fats are not all the same. Natural occurring ones, such as those in coconut oil, are considered far healthier than those created using hydrogenation and populations that consume high quantities of coconut oil have some of lowest rates of heart disease in the world.
"Coconut oil contains medium chain fatty acids which are easily digestible and also easily cross cell membranes where they are burned for energy rather than stored as fat" says nutritional therapist Fleur Borrelli "it's suitable to be used in cooking and baking as remains stable at high temperatures and it can be eaten off the spoon for a quick energy boost as it does not destabilise blood sugar levels like a sugary snack".
But coconut oil is not just good internally, it's also great used topically. "It can be used for everything from dry skin to eczema, psoriasis even acne!" continues Borrelli "You can also use it to moisturise face, hair or shove it under your arms as a deodorant. Also brush teeth with it for fresh breath.".
This naturally occurring fat can in fact replace many beauty products. Once you discover its many uses, you may want to ditch many lotions and potions...
Hair

Coconut oil makes an excellent conditioning mask for hair. Make sure you buy an organic virgin one, so none of its goodness is stripped away by over-processing. Apply it to dry hair, avoiding the roots. Leave it on for 15 - 20 minutes, then remove it with a gentle shampoo followed by conditioner. You can also apply it to brittle ends once your hair is clean and dry to avoid breakage.
Body

Coconut works wonders on the skin. It can be applied as a moisturiser all over the body as it softens and nourishes deeply. It can also be used to shave instead of a cream for smooth results and can be applied as a deodorant too. If you regularly scrub, why not make your own with coconut? Simply add salt or sugar to the oil, mix well and apply. The granules will lift the dead skin cells and the coconut will act as a moisturiser and anti-inflammatory. If you suffer from any skin complaints such as psoriasis, rosacea, eczema or experience sunburn, apply coconut oil to the affect area for rapid relief. It also works wonderfully on nappy rashes.
Face

Coconut oil is rich in Lauric acid and vitamin E, both extremely beneficial to the skin thanks to their anti-ageing and hydrating properties. It also naturally protects against UV rays and because it spoils at a much lower rate than most natural oils, it works to repair the skin for longer than most moisturisers after application. Apply a few drops before your daily cream or at night on its own. If you want a deep nourishing effect, slather it all the face, sit back and relax for ten minutes, then simply wipe it off with a soft tissue. For a gentle but effective makeup remover, simply take a dollop and massage it into the skin and over your eyelids and even the most stubborn makeup will melt away in seconds. However you decide to use it, your skin will feel velvety-soft.
Teeth

Believe it or not, you can make your own toothpaste too with coconut oil. Thanks to its disinfectant and antimicrobial properties, this oil works well at fighting infections and plaque and protects the health of your mouth. Mix it with bicarbonate of soda and add a few drops of an edible essential oil for flavour, and voilá, you have your very home-made paste!
Hands and Nails

Cracked hands will benefit from a regular application of coconut oil. Either add a few drops to your hand cream or slather it on its own before going to bed. Apply to cuticles too to soften them up before a manicure.

Cooking

Because it burns at much higher temperatures than other kitchen oils and butters, coconut is ideal for cooking and baking (it does have a distinctive coconutty flavour however, so it may not work in every recipe, especially if you are not a fan of its taste). Because it contains short and medium chain fatty acids, it helps increase the rate of metabolism making it a potentially important ingredient for those trying to lose weight and also helps keep the endocrine and thyroid systems ticking along nicely. Its anti-bacterial properties help keep the body stay healthy and stave off infections too.