At home with... Jemma Kidd
Model-turned-make-up artist Jemma Kidd talks exclusively about hot summer trends and how decorating your house can flatter your skin tones. Find out which famous painting she covets and how she keeps her rooms looking fresh.
I split my time between... London and our cottage in Hampshire. I work in London four days a week and spend three days in the country to ride my horses and live in my wellies.

My most sentimental possession is... a French carved cupboard that belonged to my dearest friend Degsy, who passed away.

My favourite pieces of furniture are... our new Tiffany dining chairs from OKA.

My home is... both cosy and calming. I travel a lot with work so it is important for me to be able to relax and unwind when I get home. I make my house feel homely by personalising it with photos and wonderful objects of desire from my travels.

My fashion is... quite simple. Everything has to be comfortable. I like mixing antiques with modern. The Weathered Oak furniture sits well with my grandmother's antiques. I love the style of the Forties and Fifties.

The greatest things in my life are... the three H's – my health, my husband and my horses (oh and happiness!)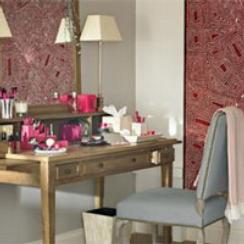 The best room in my house is... the camelia room in the cottage. It's a Victorian orangery attached to our house – they used to use it as a greenhouse. We converted it into our summer sitting/dining room.

The best tip from my little black book would be... hair cut by Adam Reed from Percy and Reed and facials from Sarah Chapman.

My advice for an instantly updating a room is... wallpapering or painting your walls, re-hang your pictures and get rid of clutter.

Decorating should be... flattering. A subtle paint colour on one feature wall is perfect to flatter skin tones.

It feels like home when there are... dogs, book shelves filled with books, photographs, an Aga, and lots of baby pillows on your bed.

I like... scented reed sticks and candles to help keep the room fresh.

I would love to own... Waterlilies by Monet.

The interior trend for the summer is... fresh colours like lime and yellows. I love the cobolt & denim blue look too. Also, elements of Safari chic – rattans, khaki tones and bamboo table accessories. Pretty glassware is perfect for drinks in the garden or even for pretty poesies of sweet peas around the cottage.

I am most proud of creating... my company with co–founder Grace Fodor – 'Jemma Kidd Make Up School' – and launching the product line in Space NK.

If my house was burning down I would grab... an emerald and diamond Cartier bracelet, which belonged to my grandmother and my aunt gave to me a few years ago. I would also grab our collection of Indian silver goblets and two double magnums of Chateaux Lafette 2005 that we were given for our wedding.