Emma Bunton Shows Off Her New Tattoo She Got On Big Night Out In LA
18 August 2017, 12:29 | Updated: 8 June 2018, 15:45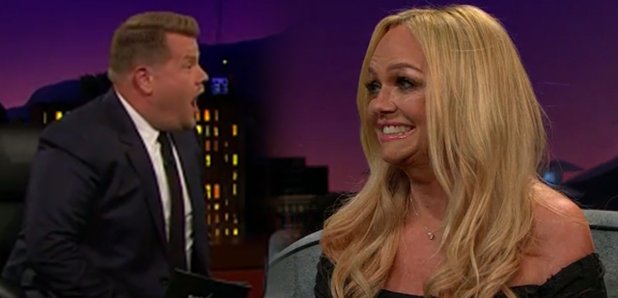 Emma Bunton had a tattoo tribute to her fiancé inked on her finger while on a night out.
The 41-year-old singer has admitted she "felt terrible" waking up with a sore head on Wednesday morning after indulging on a night out at Hollywood hotspot Chateau Marmont with her partner Jade Jones, who also went under the needle.
Emma - who has two kids, Beau, 10, and six-year old Tate, with Jade - said: "I had my children's names on my wrist and last night Jade and I, my other half, we love each other dearly and were tipsy and we were like, 'Yeah, let's do this!'
"So I went and got a J on my finger. And Jade got an E! But I felt terrible this morning!"
The former Spice Girls star is currently in the US working on talent show 'Boy Band' - on which she is a judge alongside Nick Carter and Timbaland - but admitted she cannot help getting tattoos when she is out.
Tonight on the @latelateshow we talk tattoos and phobia's Willem Dafoe, @HarryConnickJR and me, come join us. pic.twitter.com/pPPG6bmGwj

— Emma Bunton (@EmmaBunton) August 17, 2017
Speaking on James Corden's 'The Late Late Show', she added: "I'm working here on 'Boy Band' but it's also my summer holiday. So I went out drinking with some friends, we went to the Chateau. "It was good but I have a hangover today. I actually ended up in a tattoo parlour!
"It's something I keep doing. This is the third time this summer I've got a tattoo."
Emma's latest inking comes less than a month after she shared a picture of herself sitting in a chair looking excited while waiting to get a tattoo done in the early hours of the morning.
She wrote: "2am in the morning, new tattoo face!!! #excited #LA. (sic)"